One of the defining flowers of fall is the chrysanthemum, also simply known as the mum. With so many varieties of this gorgeous flower, it's no surprise that there are plenty of ways to enjoy them, from planting the blooms yourself or decorating your home and landscape with them. Mums symbolize optimism and joy, making them a fabulous choice for your decor. Here's all you need to know about these elegant seasonal blooms.
Here Are A Few Varieties 
Many people think of mums as simple and one-dimensional, coming in just a few autumnal shades. However, there are actually multiple varieties of mums, in a rainbow of colors! Since these flowers are so sturdy, they're great for decorating and last quite a while in a vase!
Apricot Alexis: These flowers tend to grow in an obvious apricot color. Once the blooms fully open, they're quite large and can easily be the center of attention in autumnal flower bouquets.
Candid: Candid mums are a usually a deep red with lighter ends on their petals. Like Alexises, when the blooms open, they're one of the larger varieties of mum.
Seatons ruby: These mums are also two-toned, with their red petals typically tipped with a golden hue. When fully bloomed, seatons rubies have traditional mum petals around the outer edge, but a large, raised cushiony center.
Honeyglow: If you're thinking of mums, you're probably thinking of the honeyglow. The typical mum tends to grow in red, oranges and golds. It's a classic choice that's sure to add some bright color to your decor.
While these are the colloquial terms for these blooms, you can also tell your local nursery that you're looking for spider, quill, button, cushion or anemone mums.
Growing Mums
Mums are very hearty flowers with a long life in the ground and in a vase. However, when growing your own mums, you need to make sure you take proper care of them to ensure they reach their peak. These flowers need at least six hours of sun per day, so try not to plant them alongside your house or garage if that area is typically shaded.
Plant your mums in August so they'll hit their peak as the leaves begin to change, giving your yard a gorgeous autumnal vibe. When you're growing baby mums, you'll want to make sure they're watered very frequently. Once they begin to grow, you can cut back a bit, but still make sure the soil is always moist. If they're taken care of properly and they're in an optimal location, your mums will grow year after year! They don't have to grow directly in the ground, though. A deep flower pot is a great option for your fall flower arrangements, indoors or outdoors.
Decorating with Mums
The great thing about growing mums is that you can easily trim them and put the blooms in vases in your home. You get to enjoy them everywhere! They also have a long lifespan when they're cut, lasting between a week and two if you care for them properly. Be sure to change the water in the vase every day and keep them in a cool area of your home.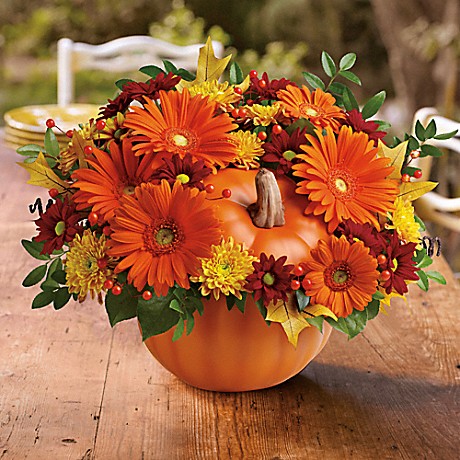 Just because you're not growing your own mums doesn't mean that you can't enjoy their beauty in your home. Bouquets like It's My Party and Teleflora's Country Pumpkin to bring the magic of these fall flowers into your home.