[et_pb_section admin_label="section"][et_pb_row admin_label="row"][et_pb_column type="4_4″][et_pb_text admin_label="Text" background_layout="light" text_orientation="left" text_font_size="14″ use_border_color="off" border_color="#ffffff" border_style="solid"]
If you are considering sending flowers to your significant other this Valentine's Day, chances are you're going to want to attach a little love note with it. Whether you want to be funny, serious or a little bit of both, for whatever reason, writing a love note always seems like a lot of pressure. Complement your floral arrangement with a short, sweet and romantic one-liner with the perfect amount of cheese to show your Valentine just how much you love them.
If you're looking to add a touch of laughter, consider these humors puns:
I think I'm going daisy about you!
You're a catch, good thing I rose you!
You are more beautiful than any flower, but I thought you would like these anyway.
You make me happier than this bouquet of sunflowers.
You've planted a garden of love in my heart.
Flowers today, fireworks tonight!
I'd pick you any day.
When going in for a kiss, tulips are better than one.
With fronds like you, who needs anemones?
I rose to the opportunity to tell you how much I love you.
We will have a blooming good time tonight.
I really lilac you!
These roses are thorny, looks like you're stuck with me!
I'll be over in a lilly bit, Valentine.
Love is like a flower, so let's let it grow.
I think you're dandy and I'm not lion.
Orchid you glad to be my Valentine?
I want to spend all my day-sies with you.
Naturally, I pick you.
Roes are red, violets are blue, what would I do without you?
If you want to take the more serious route with just a touch of cheese, go with these:
When I stop to smell the flowers and take time to think of what really matters, you are always at the top of my list.
If actions speak louder than works, this is my way of shouting. (Tip: Use this saying when sending a significant amount of roses)
Every delicate petal represents a separate, loving thought about you.
If I had a single flower for every time I thought of you, I could walk forever in my garden.
It's not from my garden, but it's from my heart.
If you hold eight roses in front of a mirror, you'd see nine of the most beautiful things in the world.
I usually tell you 'I love you' two or three times a day, today I'll make it a dozen.
I loved you once, I love you still, I always have, I always will.
This morning I saw a beautiful flower and I thought of you.
Love is like a flower, as it grows out of care and nurturing.
Today is a very special day for sending all my love your way!
With you, it's Valentine's Day 365 days a year.
Everywhere you go, love and beauty seem to follow.
A hundred flowers would be too few to show all my love for you.
Where flowers bloom, love will grow.
Flowers bloom in my heart for you.
Love is a flower and you, its only seed.
You're the only flower in the garden for me.
You are as warm as sunshine, sweet as sugar and radiant as roses.
Love in its truest form is like a rose, beautiful and delicate.
And of course, end each saying with 'Happy Valentine's Day.' These sweet and cheesy-yet-romantic one-liners are the perfect way to express your love when sending your sweetheart a beautiful bouquet of flowers.
[/et_pb_text][/et_pb_column][/et_pb_row][/et_pb_section]
Summary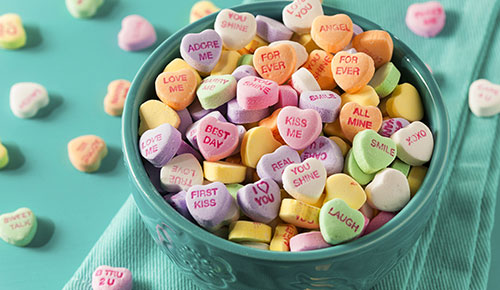 Article Name
What to Write When You Send Flowers to Your Valentine
Description
We've got lots of ideas for you to choose from: cheesy, short, sweet or romantic one-liners, to show your Valentine just how much you love them.
Author
Publisher Name
Publisher Logo