February 14th is a day to celebrate romantic love, friendship and admiration, and nothing seems to encompass the meaning of Valentine's Day better than red roses. These beautiful flowers are now the standard for gift-giving on the holiday, but you might be wondering where this convention and symbolism come from. We're taking a deeper look into the narrative behind red roses and how they've remained the classic Valentine's Day gift for so long.
The History of Red Roses
The story behind red roses and their symbolism of love is rooted in Greek and Roman mythology. These flowers were tied to Aphrodite — or Venus — the goddess of love. It was believed that as she came across her wounded lover, Adonis, a combination of her tears and his blood created a red rose bush. 
Other than the mythological symbolism, the use of roses as an emblem of love dates back to the 19th century. Victorians would send bouquets of roses and other flowers to convey to love interests that they reciprocated their feelings. This "floriography" — or coded communication through flowers — solidified the rose's romantic status.
These vivid blooms have become a timeless symbol of romance, love, beauty and courage. If you've been looking for the perfect arrangement of roses to send to a loved one this Valentine's Day, here are some of our favorite bouquets to consider.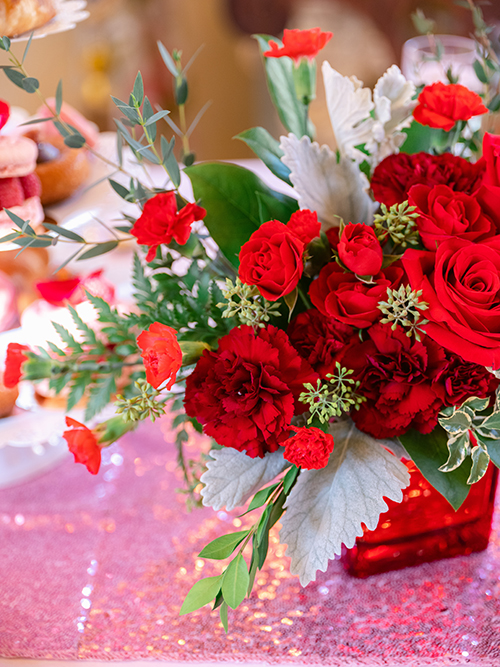 Classic Bouquets to Send
For the special loved one or romantic partner in your life, an elegant arrangement like Teleflora's Yours Truly Bouquet or Visions of Love Bouquet is the perfect way to say "I love you." These classic red roses are complemented by white roses, lilies, carnations and white statice to create a breathtaking tribute of devotion. Or, go even simpler. You can never go wrong with a dozen red roses like Teleflora's Enduring Passion bouquet.
Vibrant Arrangements to Consider
Valentine's Day isn't only a holiday to celebrate romantic love but a time to acknowledge affection for friends and family too. If you're looking for something other than the classic bouquet of red roses to send to loved ones this February, consider something a bit more colorful. Teleflora's How Sweet It Is bouquet features lush orange roses, hot pink Matsumoto asters and hot pink carnations that are sure to delight any receiver. 
For the calm, cool and collected loved one in your life, consider Teleflora's Together At Twilight Bouquet. This arrangement of lavender roses, stock, cushion spray chrysanthemums and Limonium offers an air of charm and serenity while showing how much you care. 
This Valentine's Day, recognize red roses' long history and their status as the most prevalent and enduring symbol of love. Consider sending an arrangement of these timeless flowers to the ones who mean most to you, and don't forget to spread that love to your friends and family too!