Who needs books when you can host Pinterest parties?
Pinterest, a site that offers tips on everything DIY, has become a bit of a movement among crafters around the world. While finding new and innovative ways to bake, sew and create is exciting, hosting a party to bring all of your friends in on the action might be even better. Pinterest parties have grown in popularity along with the site itself and friends are coming together to craft. Here are a few ideas for hosting a successful Pinterest party:
Pick a theme
Selecting a theme may be the hardest and most important step in hosting a perfect Pinterest gathering, so consider a few craft projects before going with one idea. With summer here, it could be fun to host a tutorial on how to create something for the great outdoors, such as a cute candle holder or even a planter. While you might want to build a more extensive piece, such as an outdoor table, a task like that may be too challenging for some of your friends and may also change the vibe of the event from casual and social, to serious and school-like.
Opting for one or a few simple, yet no less stylish, projects for friends to chose from may be the best way to go.
Gather supplies
Now that you know what you and your guests will be crafting at your upcoming party, you'll need to head to your local craft store to pick up the necessary items. Plan to grab extras of everything in case people mess up during any of the steps.
On the same note, after purchasing the supplies, you should go home and create all of the projects you'll be teaching your friends how to make. This way, you'll get an idea of how challenging each project really is and learn exactly how to make them so you can be of assistance to guests during your party.
Set the mood
Since a Pinterest party is meant focus on trying new things, it might be a fun idea to request that each guest bring an appetizer or dish that they found on Pinterest. This will ensure there is plenty of food to go around and will allow your friends to try out different recipes that they may want to use in the future. You could also make a signature cocktail that you found from the website to help guests unwind and enjoy the party more.
Add life to the crafting room
Now that you know what you're making and what you'll be eating, it's time to figure out the decor for your upcoming fete. Since you may be going with an outdoor theme, it might be nice to decorate with bouquets of fresh summer flowers like colorful hydrangeas or even beautiful sunflowers to help warm up your space and make it feel more inviting. Setting up plenty of work stations is also important, so guests won't be worried about where to sit.
Follow Teleflora on Pinterest
Decorate with summer flowers!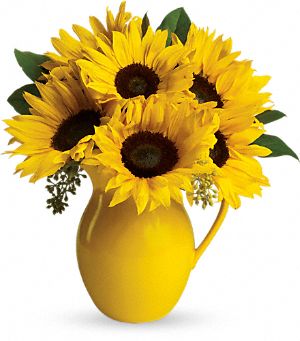 This article is brought to you by Michelle Farrell and
published by Teleflora.