There are few things more aesthetically appealing than a fall wedding, with the perfect backdrop of rich, golden leaves still in the trees. With September and October being two very popular wedding months, there's no doubt that a number of autumn brides are putting a lot of thought into their floral arrangements. While pastels and brights may be a given for spring or summer wedding, it can be a little more challenging to figure out what kinds of flowers will really make your fall wedding pop. Here are some tips for figuring out your fall flower arrangements for your wedding:
A New Color Palette
When it comes to choosing wedding flowers, color is typically the first thing on a bride's mind. If you're an autumn bride, you're in luck because your possibilities are endless. In addition to incorporating some pastels into your bridal bouquet and centerpieces, you also have the option of rich, warm jewel tones that can match or complement your wedding color scheme. If your colors are teal and maroon, consider some light pink or ivory blooms, like in the Isn't It Romantic bouquet to break up a bouquet of rich, deeper tones.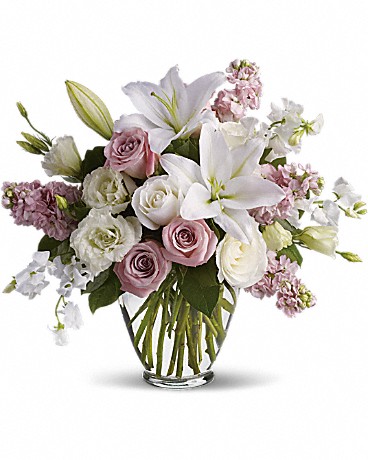 Flowers Aren't Your Only Option
While a bouquet reminiscent of freshly-picked wildflowers is certainly an option for a fall flower bouquet, there is also an abundance of lush, gorgeous greenery that'll add something special. The best part is that so much of it is in season in the fall. For example, some long fern leaves or hypericum berries will break up the floral arrangement and give it a real autumnal vibe. If you want to get really crafty and creative, you can even work some colorful leaves into your floral decor. Polished bouquets are also a hot trend for fall, rather than the cascading bouquets of the spring and summer. Try wrapping the handle in a fabric that fits the aesthetic of the wedding. Burlap would be adorable for a September barn wedding, or black lace would be dramatic and elegant for spooky October nuptials.
What's in Season for Fall?
One benefit that spring and summer weddings have over fall weddings is the endless amount of flowers that are available locally. As summer comes to an end, that list grows a bit shorter. While you can always outsource and order exotic blooms, that can get pricey very quickly. However you shouldn't fear! There are still plenty of gorgeous fall flowers to choose from. Here are some of the most popular blooms in season in the fall:
September: Hyacinthus, alstromeria, gerbera, daffodil, freesia, iris, lillium stargazer, magnolia, rose, snap dragon, stock, sunflower, zinnia.
October: Stock, alstromeria, calla, delphumium, freesia, gerbera, iris, liatris, magniolia, rose, snap dragon, sunflower.
Don't Forget Centerpieces
You don't want to spend so much time on your bridal party bouquets that you forget the centerpieces for your reception! There are so many options for your centerpieces this time of year, from fall flower arrangements to gorgeous pumpkin and gourd displays. Try stepping out of the box with nontraditional containers for your centerpieces instead of a vase. Mason jars, bottles, and even paint cans can serve as rustic options for your wedding decor.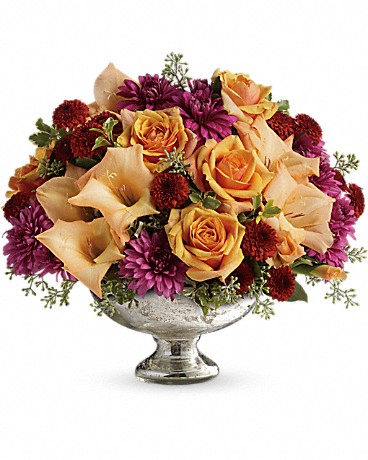 If you're planning a fall wedding, an Elegant Traditions or Lush and Lovely centerpiece is exactly what you're looking for. Both of these centerpieces offer deep colors that will perfectly complement your seasonal decor.