Valentine's Day is perhaps one of the most polarizing holidays out there. On one hand, it's a special opportunity to let the object of your affection know exactly how much you care, but on the other hand, it's also a day that points out the lack of love in your life if you're single. However you feel about Valentine's Day, consider an alternative on how to spend your day. Volunteering for Valentine's Day is a great way to spread the love to everyone around you. Bond with your significant other, coworkers, friends, or family, while doing something bigger than yourselves this holiday! Here are a few great ways to volunteer for Valentine's Day:
Visit a Nursing Home on Valentine's Day
You might be feeling a bit lonely on Valentine's Day, but that may be a regular occurrence for people who live at your local nursing home. Whether some of the residents have lost their spouses or their families live too far away for regular visits,  some company is always a welcomed surprise. Consider delivering flowers, like the Red and White Delight bouquet, or baked goods to some of the residents. You could even bring books to read with them. Check out the nursing home's website to find out what's welcome and what isn't. Some locations might have stricter rules than others, so it's best to be prepared before you show up.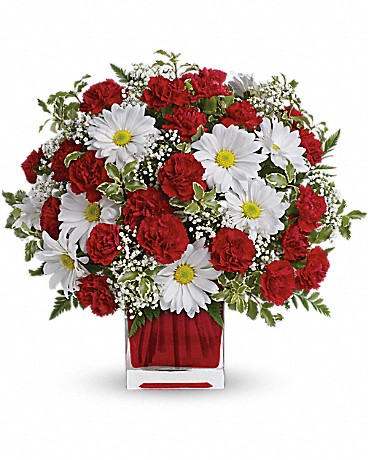 Volunteer at an Animal Shelter
What better way to lift your spirits on Valentine's Day than hanging out with some adorable cats and dogs? Visit your local animal shelter's website and find out what information from you is necessary and what will be expected of volunteers. Some shelters have so many people inquiring about volunteer positions that you need to fill out an application, while others will just have to attend an orientation to get started. Volunteer duties at animal shelters typically consist of taking dogs for walks, cleaning cages, doing office work, and of course, cuddling all with all the animals!


Put Together Care Packages for Valentine's Day
If you don't have the opportunity to get out and visit a homeless shelter, you can take the opportunity to watch your favorite movies on Netflix, drink some wine and make care packages for people in need. This can include homeless people, troops, veterans, or anyone else you think could use some cheering up. Most of the things in these packages are fairly inexpensive and can be picked up in bulk or at the dollar store, so this is a good way for anyone to get involved.
Here are some guidelines for making care packages for homeless shelters:
Soft foods like applesauce, chewy granola bars and dried fruit are nutritious and sustaining snacks

Gloves, socks, hats and scarves are great, even if you live in a warmer area because it still gets cold at night

Hygiene items like deodorant, tissues, pads, tampons, toothbrushes and baby wipes are perfect to include to daily care

Steer clear of hand sanitizer, mouthwash or anything with alcohol in it
Here are some ideas for care package to the troops:
Activities for entertainment, like crossword puzzles and books.

Non-perishable snacks are always welcome, as it may take a few weeks for your package to reach a soldier. Many soldiers also appreciate flavor packs for water, as they may not always have access to lemonade or iced tea.

Foot care products like moleskin, foot powder and ointment come in handy, since service members spend so much time on their feet.
Valentine's Day is all about spreading love to all those around you. You don't just have to focus on a romantic relationship (or lack thereof). Doing something good while make you feel even better this holiday! If you want to continue your good deeds, send a surprise delivery to someone you haven't spoken to in awhile from our Valentine's Day flowers collection.
photo cred: Annie Mcelwain- 100 Layer Cake