Wedding season is in full swing and with weddings, come flowers. While many people believe that flowers and floral arrangements are timeless, flowers go through trends just like everything else. From style to color palettes, here are some of the hottest flower trends of 2016's wedding season for you to give a try.
Keep Flowers Seasonal
One of the best parts of having a summer wedding, is having a vast selection of summer blooms available to you that aren't around the rest of the year. They are bright, fun, and unique, making for interesting bouquets all around. Here are some of the most popular summer flowers to consider using:
•Gloriosa daisies and lilies.
•Dahlias
•Marigolds
•Beardtongues
•Peonies
•Daffodils.
•Plumerias
•Lavender
•Sunflowers
•Aster
•Hibiscus
•Wildflowers
Vary Your Flowers
While a bouquet or centerpiece of a single type of flower can certainly look elegant, that trend has been set aside this season in favor of large bouquets, made up of a variety of flower types. This is especially popular in summer and fall weddings, when wildflowers are at their peak. If you aren't a fan of wildflowers but still want an eclectic mix of flowers, Teleflora's Smile for Me summer bouquet is made up of a variety flowers in different colors with unique textures. With its pops of fun and excitement, it is like a summer's day in a vase.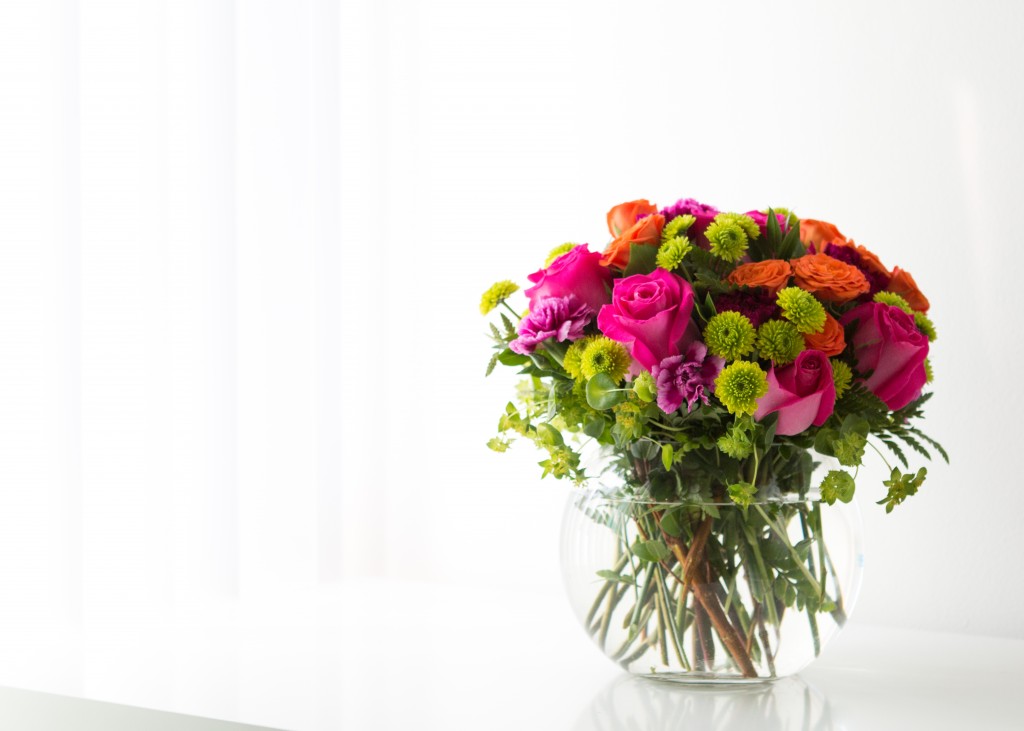 Incorporating Greenery Into Bouquets
There is so much gorgeous greenery out there that it would be a shame to keep it out of your bouquets. You may be asking yourself why you would ever add greens to your flower bouquet. Aside from just adding complementary colors that accentuate your beautiful blooms, it also adds fullness and complexity to your flower bouquet. Just be sure to not replace the flowers in your arrangement with greenery. You want it to be an addition to your beautiful flower arrangement, not all greens and a few flowers. Think about adding some fern leaves or even a couple of succulents into your bridal bouquet this summer.
Large, Whimsical Wedding Bouquets
Speaking of not wanting your bouquet to look too uptight, large "natural" bouquets are the trend of the season. The greenery included in the bouquets makes it easy for you to have a large, cascading armload of flowers that looks like you picked it in a field on your way to the wedding. This style of bouquet is elegant, whimsical and a fun alternative to the classic rose bouquet. This trend makes it easy to play with different flowers without requiring the arrangement to look extremely neat and tidy if that that's not your style. Like a summer's night, these bouquets are carefree and effortlessly beautiful and will be sure to impress all of your guests. This beachy summer bouquet is everything a wild heart could ever dream of.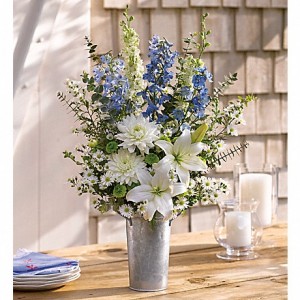 Mix and Match Wedding Centerpieces
Sometimes, a couple can't decide on one cohesive centerpiece to use on every table in their reception. There's no need! It's becoming increasingly popular for wedding receptions to have an array of different floral centerpieces, giving the room a bright and cheery atmosphere. There's no need for your floral arrangements to be matchy-matchy with your wedding colors. If you prefer warm tones while your husband-to-be prefers cool ones, incorporate them both! You don't want arrangements that are going to completely clash with one another, but it's completely acceptable to play around with different styles. Make a new theme for every table and create the centerpieces of your dreams.
Exotic Wedding Flower Arrangements
Teleflora's Gardens of the World Collection is a great example of bringing something exotic to your wedding. Use some bamboo or orchids in your reception centerpieces or have your bridesmaids carry flowers with tropical pops of colors. You don't have to make your entire wedding a theme, but using the flowers to bring a little something different to your aesthetic can make a statement without going over the top. Rose bouquets will never go out of style, but if you want to be different than don't be afraid to go with something crazy or out of the ordinary. It's important to feel like your personality is brought out on your big day.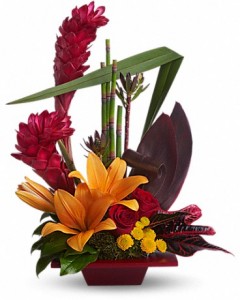 Accent Wedding Flowers
Similar to an accent nail on your wedding manicure, accent flowers are an exciting pop of something different in your bouquet. This could be a few large burgundy flowers in your bouquet of blush peonies or some tropical looking hibiscus flowers in your subdued centerpiece. You could get really wild with it and incorporate accent fruits or berries into your bouquet instead of accent flowers. You can be creative when you are adding accents to your bouquet and test out a few different options before settling. There are no rules and each season will present you with new things to try.
Handmade Flower Wedding Decorations
DIY flower decor is becoming more and more popular. Maybe it's the inception of Pinterest, or the fact that flowers are likely the most expensive aspect of a wedding – people want to do as much as they can on their own. Whatever the reason, homemade centerpieces, flower curtains, and even flower crowns for the bridal party are becoming common staples of wedding decor. A floral wall or curtain is much cheaper to make than to rent a wedding photo booth, and the pictures will turn out gorgeous! As long as you are good at your homemade projects, your wedding decor can look just as good as a professional's. Plus it adds something a little extra special since you are putting your own personal touches on your big day.
Trends come and go, and the 2016 summer wedding trends is all about bringing your own personal style out. Whether you are designing it yourself or working with a florist, let your imagination come to life and watch how your floral arrangements unfold.