If you're planning a wedding this time of year, you'll want flowers that are in season and beautiful, whether they're for centerpieces or for your bridal party. Luckily, there are so many flowers that are blooming right now, so you have a wide variety of colors, textures, and scents available to you. Take a walk around the farmers market, talk to local florist, or just check out recent wedding photos to get a good feel for what you want. You might even surprise yourself by picking a flower you've never heard of before. While these are only a few seasonal blooms, take a look at 3 of our favorite spring wedding flowers:

Peonies
With layers of delicate, tissue-paper petals, peonies are soft, textured and a popular choice for spring wedding flowers. Peony bulbs are large, so a little can go a long way, particularly when they're paired with small blooms and greenery. These flowers are also big for weddings because they come in so many different colors. No matter what palette your event will feature, you can find peonies that fit. The only color not available, however, is blue.

What is the symbolism of peonies? Well, this flower is associated with bashfulness, riches and honor and is seen as an omen for a happy marriage – just the way you want to say your I dos! In fact, the flowers are traditional gifts for 12th wedding anniversaries. Teleflora's Pretty in Peony bouquet is a perfect example of what these flowers can do. It combines pillowy white hydrangea with delicate pink peonies, all arranged in a glass vase with eucalyptus and other greenery. Best of all, the spring arrangement won't impede your guests' view of one another at their tables.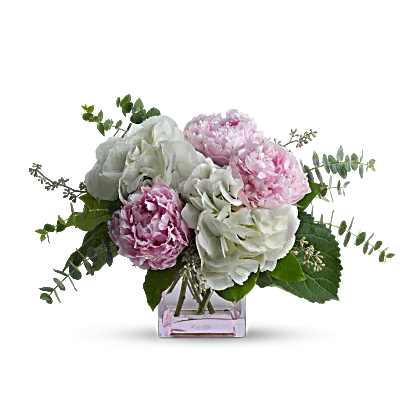 Calla Lilies
With a single petal wrapped around the stem, calla lilies are unique and utterly striking. In fact, "calla" comes from the Greek word for beautiful. While these flowers are most common in white, they are also available in orange, black, yellow, pink, green and purple.

Calla lilies are another flower that represents a joyous marriage and are a common gift for a 6th anniversary. In addition, calla lilies represent devotion, spirituality, purity, gratitude and passion. These flowers are perfect for modern, structural bouquets. Their shape also adds movement and grace to centerpieces. For instance, take a look at the Grand Gesture bouquet from Teleflora. With upright lilies surrounded by spiraling greenery, this arrangement guides the eye.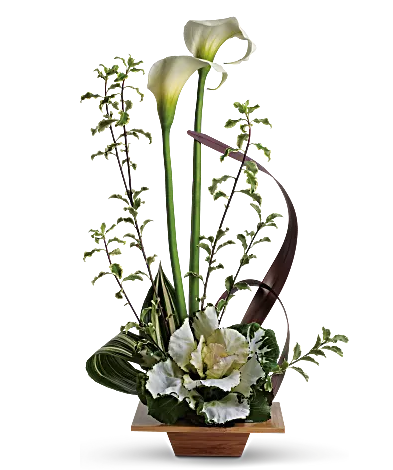 Hydrangeas
Hydrangeas feature bulbs composed of tiny petals that add an explosion of texture and color to arrangements. They vary in shade along the spectrum of pink to blue, including purple. They also come in green and white, making them a versatile choice for your spring wedding flowers. What's more, hydrangeas bloom from spring through fall, so they'll be in season even if you're getting married later in the year.

Beauty and grace are obvious traits hydrangeas display, but they also carry other meanings. They're the gift for a 4th anniversary and show sincerity. The flowers also connote gratefulness – show your guests you're thankful for their support by using them as centerpieces.

The Your Majesty bouquet by Teleflora is a striking and saturated arrangement for your wedding. Its conical vase holds deep violet hydrangeas along with orchids, roses and deep green filler.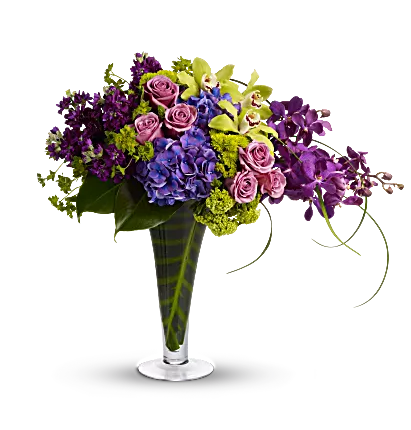 Celebrate your spring wedding with these seasonal flowers and wow your guests with brilliant pops of color all around the room. No matter what your style is, you can find the types of flowers that fit the mood and aesthetic of your wedding. It never hurts to add in a few roses here and there too, like beautiful pink roses meaning elegance, happiness, and gratitude. They complement other arrangements beautifully. Whatever you chose, we hope you have an amazing wedding!