[et_pb_section admin_label="section"][et_pb_row admin_label="row"][et_pb_column type="4_4″][et_pb_text admin_label="Text" background_layout="light" text_orientation="left" text_font_size="14″ use_border_color="off" border_color="#ffffff" border_style="solid"]
June is right around the corner and one of the most exciting holidays it represents is National Rose Month.
That's right, the entire month of June is dedicated to the beautiful and elegant rose. You can celebrate the rose with your friends and family in a number of fun and fantastic ways.
1. Visit a botanical or rose garden. A great way to embrace National Rose Month and all flowers is to visit local botanical or rose gardens. Depending on where you live, this outing could be a day trip or may require you to take a weekend to get to the destination. This could be a fun time to bring along the kids or even a few girlfriends to embrace the natural wonders that are roses.
2. Host a rose giving party. Throwing a party in the rose's honor is a perfect idea. Make the fete a smashing success by offering a few roses to your guests and even drink rose tea to really get in the mood.
3. Give roses as gifts. Different color roses represent certain emotions, so giving loved ones roses of specific colors can be a great way to celebrate this holiday. Red typically symbolizes love and romance, white represents innocence, yellow is for friendship, pink is for appreciation and purple is for enchantment. A collection of fresh flowers like Teleflora's Love Medley Rose Bouquet may be perfect for that special someone as it contains pink, red and lavender roses in a gorgeous cylinder vase.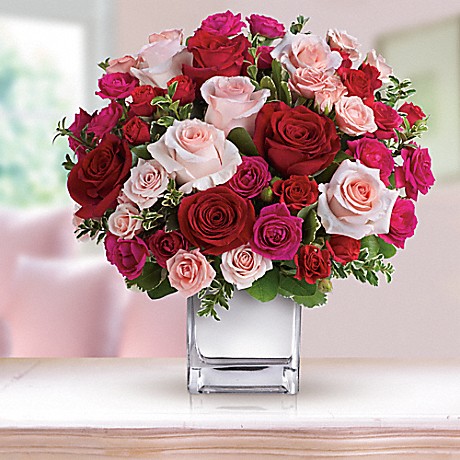 [/et_pb_text][/et_pb_column][/et_pb_row][/et_pb_section]