Whether you are sending a loved one flowers to wish them well during a tough time or because of good news, here are a few things to consider before you send a vase of flowers to the hospital:
Check with the Hospital
Some parts of hospitals, such as intensive care, do not allow flower arrangements due to patient immune sensitivity. Before you do anything, call the hospital and see if patients in that area can receive flowers, and ask for details about delivery. The hospital staff may also have suggestions for good floral choices or tips on how to get things delivered if you cannot bring them in person.
Opt for Scent-Free
Hospitals have a lot going on, and while it can be tempting to send something that will smell great, there are considerations. It's possible that the person staying in the hospital has to share a room with someone who doesn't enjoy heavy scents, and there is also a good chance that something heavily scented will clash horribly in a room scoured with antiseptics. Send a cheerful arrangement but avoid arrangements that are too aromatic. Teleflora's Upsy Daisy bouquet is the perfect addition to a hospital room. White and yellow daisies are mixed in a yellow vase that is sure to cheer anyone up. Daisies have little scent but , which will keep everyone happy.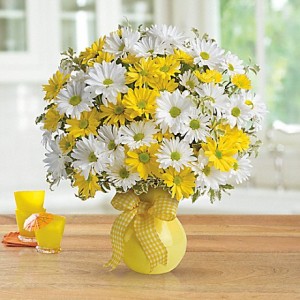 Bigger Isn't Always Better
Flowers and plants are good for people staying in the hospital; they can accelerate healing and improve patient morale. However, hospital rooms have limited space, so as nice as a bouquet the size of a person is, send something small that can fit easily on a nightstand. It will be easier to enjoy, and when it's time to go home, the patient can transport it without too much trouble.
Prevent the Sneezing
Just because someone has an allergy doesn't mean he or she can't enjoy flowers. There are plenty of options for people who cannot tolerate pollen. Consider getting arrangements of roses, or opt for something leafy, like bamboo. Teleflora's Good Luck Bamboo is an excellent option for the pollen-averse. Long stalks of bamboo are suspended by white stones in a square bamboo container. A gift of bamboo is also considered good luck, so they are not only beautiful, but they also may speed up recovery time as well.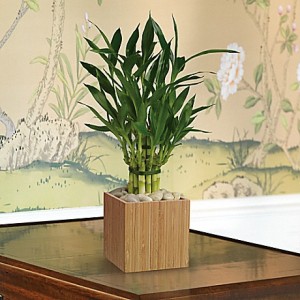 There are many things to consider before sending flowers to a hospital, but perhaps the most important thing is to check and make sure the person in the hospital wants flowers. Once you find out that, you can find beautiful arrangements at Teleflora.com to match your loved one's personality.