The True Story of Luck Behind the Four Leaf Clover
Though much of the country may be reeling from the considerably cold weather that defined this past winter, March brings with it the spring season and the perfect opportunity for everyone to chase away their seasonal woes and have some festive fun: St. Patrick's Day. Yet while most people know to wear green on the vaunted holiday, they may not be aware of the significance the jade shade has on this lively event.
The luck of the Irish
One of the cornerstone decorations of the holiday is the four-leaf clover. This small plant, a member of the leguminous pea family, is a unique variation of the more common three-leaf clover, or shamrock. In traditional Irish culture, the shamrock was said to represent the holy trinity, with the fourth leaf on these festive variants said to represent good luck. Modern interpretations may claim the other three leaves represent the virtues of faith, hope and love, yet that fourth petal remains a true symbol of luck to anyone fortunate enough to find it.
A festive shade of green
Though white clovers are certainly beautiful, St. Patrick's Day belongs to the color green. This shade is said to symbolize fertility, life and natural beauty – something we can all appreciate every day of the year. The connections between this holiday and the color green are varied, with some equating the connection to the famously green hills of the Irish countryside and others connecting it with religious symbolism.
Get that emerald hue
While there's no denying that clovers are the definitive plant of St. Patrick's Day, that doesn't mean that there aren't other ways to make this year's event festive and floral. Green carnations can make for excellent decorations throughout an area, or even as accessories for your verdant ensemble. Similarly, a green rose will tell that special someone that you're looking forward to your future together, as these blooms are said to represent hope and optimism. Green chrysanthemums, hellebores and daylilies can also make for an elegant arrangement.
Shop for St. Paddy's Day Flowers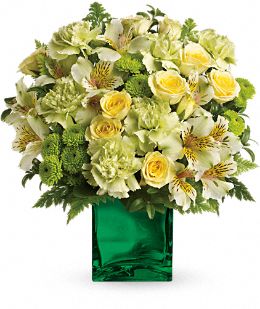 This article is brought to you by Michelle Farrell and
published by Teleflora.