The Best Flowers for Little Girl's Birthdays
So it's your daughter's birthday. You and your spouse have already assembled the bicycle, built a tree fort, baked a cake or done everything else to make her big day as special as possible. But maybe the table looks a little bare, and the balloons you spent two hours blowing up are already deflating or have long since popped. Flowers are the perfect way to make to brighten up a birthday party and make it unforgettable.
Teleflora's Bear Hug Bear with pink roses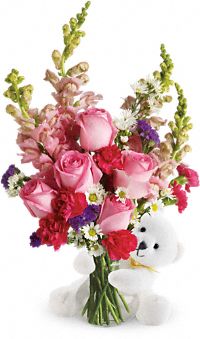 Focus on the Vase
While an ornate, expensive vase might look best to you, remember that a slender basin might not be sturdy and could tip over easily at a party full of kids. Flowers can come in a variety of fun options that are perfect birthday present for your little girl and don't pose a potential mess. Give your daughter something that she can keepsake gift that she can hold on to long after her birthday is over. A fun pot or vase can be reused to hold flowers for years to come.
Teleflora's Be Happy Mug with yellow roses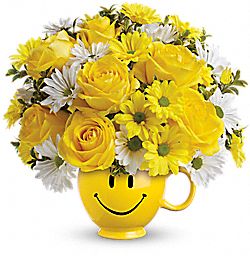 Choose Vibrant Colors
Remember, this is a day of celebration! Festive flowers will show how excited you are for your her birthday. Look for bright arrangements that will stand out and catch her attention.
Teleflora's Rainbow Present bouquet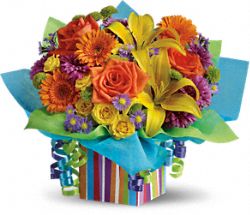 Pay Attention to Theme
If you're having a themed birthday party, purchase flowers that match the motif. If all the streamers and balloons are pink, getting pink flowers might look more natural with the overall decor than if you were to buy blue ones. If you wrapped your gifts with yellow wrapping paper, yellow flowers such as daisies might pair well.
Your Special Day bouquet shaped like a cake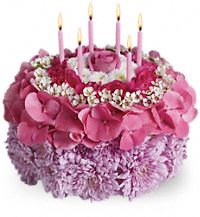 At the end of the day though, it's the thought that counts. Flowers are that extra step that will show your little girl how much you care and make her birthday memorable.
AUTHOR:
This article is brought to you by Michelle Farrell and
published by Teleflora.