Scorpios' reign is soon over as Sagittarius takes the lead on November 22. This astrological sign is characterized by highly optimistic and free-spirited people. As their time in the sun comes back around on November 22, these adventurous souls require a gift that encapsulates their free-spirit and idealistic nature. Read on to learn our favorite flowers for a sagittarius to gift this year!
Flowers as Vibrant as Your Loved One
Since the Sagittarius in your life is lively and free, a great gift idea is to surprise them with flowers. Flowers are not only an eternal symbol of love and care but also a way to connect with different emotions in others. Sagittarius flowers are an authentic way to represent the wanderlust and idealistic personality of this fire sign! 
Carnations specifically are associated with this astrological archer because of their vibrant and long-lasting essence, and they often represent love, fascination, and strength. The purple carnations and lavender roses in Teleflora's Pleasing Purple Bouquet are sure to show your Sagittarius how much you care.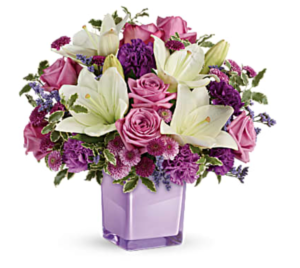 If a purple arrangement isn't the way to go, then maybe Teleflora's Sweet Savannah Bouquet is the right idea. With lovely pink carnations, roses, and spray chrysanthemums, this bouquet of Sagittarius flowers and accents is sure to make their heart sing!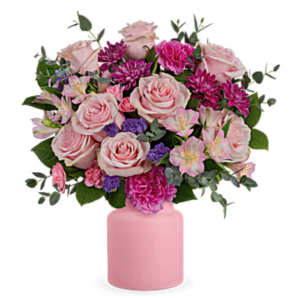 Birthday Baskets and Bouquets for a Sagittarius
Sending birthday gift baskets filled with a variety of Sagittarius flowers to their work or home is another thoughtful gesture to make their day. A bold and beautiful arrangement like Teleflora's Cotswald Garden Bouquet or Standout Chic Bouquet may be right up their alley. These graceful and heartfelt arrangements will certainly brighten up their special day.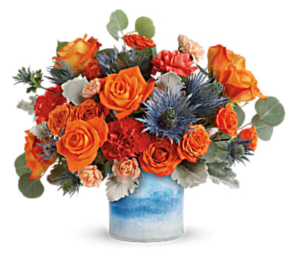 Whether your gift is a beautifully curated bouquet of Sagittarius flowers or any simple gesture to showcase your affection, your loved one is sure to feel cherished this November. If you're not sure what gift is right for your fire sign, appealing to the archer's sense of adventure is a great place to start.