Summer is finally here, the sun is shining, and the days are getting hotter! In celebration of the longest day of the year coming up, here is a list of flowers that love sun as much as we do:
Petunias
Petunias are popular flowers with gardeners thanks to their soft petals. They come in a staggering array of colors and thrive in potted plants and window boxes, while also tolerating harsh conditions and hot climates. Originating in South America, petunias do best in bright sun and are often used by green-thumbed gardeners as border flowers for summer plantings. They are an easy addition to your summer garden this year.
Carnations
Carnations thrive best in full sun and have a very long lifespan. While they are a popular Valentine's Day flower, they also make fantastic summer bouquets. Their abundance of colors and light scent make them a wonderful choice, whether they are on their own or are combined with other flowers, like in Teleflora's Sunny Day Pitcher of Cheer. This pleasant bouquet is yellow and is the perfect blend of yellow gerbera daisies, roses, alstroemeria and carnations, mixed with white monte cassino asters and green variegated pittosporum in a yellow ceramic pitcher.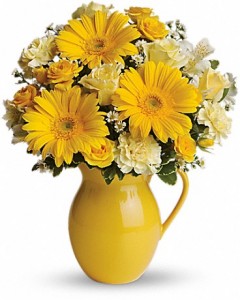 Chrysanthemums
Chrysanthemums, also known as mums, are one of the most popular summer flowers. They come in a variety of colors, pink, yellow, and white being the most popular, and they have a reputation for attracting butterflies to gardens. Their usefulness doesn't end there; they are make an excellent mosquito repellant, make them a perfect addition to a backyard patio. If that wasn't enough, chrysanthemums are also edible and are used in salads and a variety of teas.
Sunflowers
It's all in the name; sunflowers thrive in full sun and have the height to prove it. The tallest recorded sunflower measured over 30 feet tall, but these long stalked plants average about 6 feet. They grow best with 6-8 hours of sunlight a day and prefer long, hot summers. Once trimmed sunflowers can last over a week in a bouquet like Teleflora's Pure Happiness. This arrangement of sunflowers, red roses, miniature red carnations, bronze daisies and lavender monte cassino asters makes for a colorful and cheery arrangement.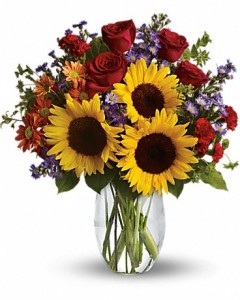 Geraniums
Geraniums are very distinct flowers, most commonly seen in pots on windowsills and porches. Wherever they are though, geraniums devour sunlight. The blossoms are typically white, pink or red and are famously delicate, but the plants themselves are known for being hardy and going through long periods of dormancy. One potted geranium can live at least two years, though often they live longer, blooming multiple times and growing substantially during their life. They make a perfect summer plant for the indoors or the outdoors and only require light watering once a week.
Dahlias
Dahlias are spiky blooms that love bright sun and dry soil. They are so ubiquitous in parts of Central and South America that Mexico declared the Dahlia its official flower in 1963. Dahlias bloom for much of the summer and have become a popular flower of choice for June brides due to their unique look. With arrangements like Summer Samba, you can see why; yellow roses and asiatic lilies, orange dahlias and alstroemeria, yellow Viking daisies, and fresh green oregoni combine to make summer in a vase.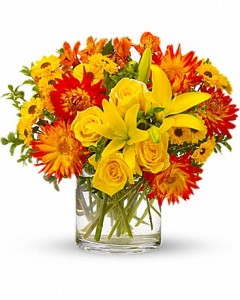 Whether you are sending a bouquet or looking to grow your own flowers, summer is the perfect time to try something new. Embrace the longer days and extra sunshine!