Smell the roses at the Portland Rose Festival
Everything seems to be coming up roses in Portland, Ore., as local residents and visitors from near and far enjoy the fun-filled events taking place during the annual Rose Festival 2013. According to The Oregonian, the popular festival kicked off June 8 with the Grand Floral Parade that boasted everything from floats and music to dancing and more.
Despite the fabulous kick-off, work on the event actually starts in March, with the picking of the court. From there, the City of Roses, as Portland is appropriately named, hosts its
Rock 'n' Roll Half Marathon and various other activities leading up to the coveted flower festival.
In fact, those living in the city get a sneak peek of the fun in early June when the annual Grand Floral Fireworks presentation lights up the sky.
What makes a rose a winner
Even though the Rose Festival is meant to build community spirit and offer residents a great outdoor family event, the true goal of the annual contest is to select the gardeners with the most beautiful blooms around. The news source caught up with Dani Ferguson, the maintenance supervisor for Portland Parks and Recreation, as well as one of the 150 judges of this year's
Portland's Best Rose Awards, to learn more about what it takes to win a prize.
Ferguson admitted for her, it's all about the fragrance, while other judge's put more weight on symmetry or color.
"Fragrance is a huge characteristic for me," Ferguson told the news outlet while bending down to sniff a bold orange rose. "This one doesn't have much of a scent, and without the fragrance, I'd give this one maybe a six."
The Awards, which have been a festival tradition for 17 years, don't have any rules on who can enter the contest and instead look to select flowers with the most life and beauty.
Rose of the year
Though all roses are beautiful, organizers of the Portland Rose Festival try to select one signature bloom to represent the event each year. The festival's official website reports for 2013,
the Pop the Cork rose is the one to watch. This long-stemmed hybrid tea rose boasts dark green glossy foliage and a "deep golden orange-yellow" color with a "kiss of red on the finish."
Not only is it beautiful, but the Pop the Cork rose is also disease resistant and was bred to smell like grapefruit and other citrusy fruits.
Buy roses and fill the air with fragrance!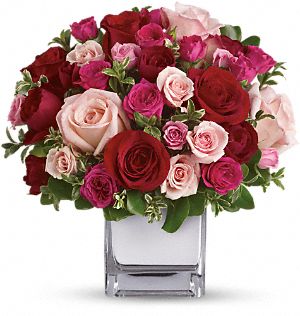 To learn more,visit the International Rose Test Gardens website.
This article is brought to you by Michelle Farrell and
published by Teleflora.