Ahh, those dog days of summer. There doesn't seem to be a more romantic time of year than those hazy last few weeks before the seasons change. This could be because August is Romance Awareness Month. What better way to celebrate the month of love than taking your beloved out on a date? The classic way to take someone out is to present him or her with a romantic flower bouquet before you leave, so it's a good idea to know what flowers properly convey your feelings:
Roses: There's a reason that roses are the most commonly gifted flowers for people in love. Roses – especially red ones – symbolize romance and beauty, making them the perfect present for someone you've long been in love with, or someone you're just falling for. Your Sweet Smile and Citrus Kissed are pretty choices in fun summer hues.
Forget-Me-Nots: Forget-me-nots have their meanings right in the name. These little blue wildflowers are the perfect addition to any bouquet, or are adorable on their own. If you want to take the name literally, they're a good gift for couples who may be separating at the end of the summer. For example, going to different colleges.
Orchids: Orchids are exotic and beautiful and though they share meanings with the more traditional rose, they're a great gift for someone who's a little more wild, and likes to march to the beat of his or her own drum.
Gardenia: These fragrant flowers are less common in bouquets, but the white blooms are a gorgeous option. Gardenias signify purity and joy, and are a symbol of old fashioned love.
Jasmine: Jasmine flowers are a beautiful and classic bouquet choice. They represent love and sensuality, so they're a great option for couples that both have a history or had a summer whirlwind romance.
Tulips:Red tulips mean "perfect love" with the black center of the flower represent a passionate lover's heart. Tulips are a popular summertime bloom and make a perfect addition to a romantic night.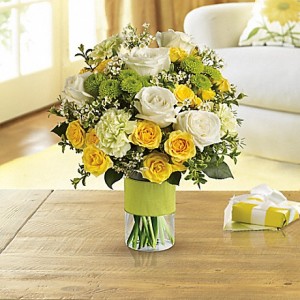 How to Choose the Perfect Romantic Bouquet
A flower for one person may not be the ultimate pick for someone else. When choosing love flowers to present to your beloved, it's important to take many things into account to ensure that the blooms you choose are the perfect ones for your date. While there's no doubt that any flowers will make your date smile, considering these few factors will show how much you care:
Your date's favorite colors or flowers: Nothing impresses someone more than when their significant other remembers little details like his or her favorite color. Even if your beloved's favorite flowers don't symbolize love, choosing daffodils because you know she loves them will mean more than going for classic red roses.
Where they'll be stored: If you know your date's home has a large foyer, an extravagant bouquet would be a good choice. However, if your date just has a bedroom in a home full of roommates or animals, a single gorgeous flower would make an impact on her dresser.
What he or she can care for: If your date doesn't spend a lot of time at home, consider a gift of flowers that don't require a lot of care, rather than a bouquet that requires daily water choice.
Summer flings aren't the only couples who should be exchanging love flowers for Romance Awareness Month. Your husband, wife or long-term partner would also appreciate the thoughts behind a gifted floral arrangement. If your anniversary falls in the month of August, consider thoughtful anniversary flowers for your love.