Peonies are one of today's most popular flowers, beloved for their bright colors, beautiful scent, and luscious, abundant petals. Unfortunately for peony lovers, however, these blossoms are as fleeting as they are fair – they're only in season for a short burst of spring/early summer. Peonies season is typically between April and June. Before the season comes to an end, buy some beautiful pink peonies and learn everything you need to know about them, while enjoying their presence in the home.
Peonies Have a Rich Historical Significance
While peonies have become a favorite of florists, wedding planners, and home decor bloggers, they've been a much-adored flower for thousands of years. The bud's popularity dates back such a long time that there are multiple myths as to how its dazzling beauty first appeared on earth. Many legends claim that peonies are named for Paeon, the physician to the Greek gods. Some even say that he was transformed into the beautiful flower by the gods as an alternative an average mortal death. Whether or not you believe these fables to be true, one thing's clear – peonies have been adored by countless generations and cultures. Peonies are also the state flower of Indiana and the flower gift for 12th wedding anniversaries.
Peonies Were Once Grown for Medicinal Purposes
Before the age of modern medicine and drug stores on every corner, peonies were cultivated to help treat a variety of ailments. Throughout Asia and Europe, these plants were believed to possess healing qualities and were used as treatments for asthma, childbirth pain, headaches and other conditions. In some cultures, peony tea is still used as an herbal alternative to more powerful drugs.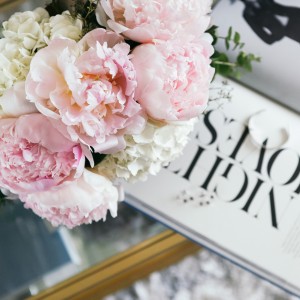 Peonies Are Available in a Variety of Colors
Wherever on the rainbow your favorite color may fall, chances are there's a peony to match! These flowers can be grown in every color except blue, with some of its most breathtaking shades including red, orange, yellow, white, coral, purple, maroon and pink. While all shades are equal in terms of beauty, pink peonies tend to have a more robust scent than the rest of their multicolored counterparts and are the most widely sold!
Meaning of Peonies
Peonies aren't just beautiful to look at, but they also signify wealth, prosperity, and good fortune. This is why you see it frequently at weddings. But with this good meaning, peonies also make a great flowers to give as gifts this summer to graduates, friends, and family that are near and dear to your heart. It never hurts to have a little more good vibes around. Plus, these flowers will instantly brighten up anyone's mood with their dramatic and breathtaking petals.
With only a few more weeks left in the season, don't wait on getting your peony flower delivery. You can even check out your local farmer's market and see if they are selling them there. They are the perfect pop of color for your home and a natural way to freshen up any room. Don't forget to check out our tips for keeping your cut flowers fresh.