New Mexico town looks to add curb appeal with flowers
It's no secret that flowers can take any space from drab to fab, and two residents of Portales, N.M., recently decided to put their minds together to help fund the planting of gorgeous blooms to beautify the town center. According to the Portales News-Tribune, Sandy Van der Veen, Portales Main Street manager and Veda Urioste, the town's Deputy Clerk, have teamed up with the New Mexico Clean and Beautiful initiative to spruce up downtown.
Purple and green all over
For Van der Veen, beautifying the businesses that represent the close-knit community has been a passion for a long time, but it wasn't until Urioste approached her to help with the efforts that their ideas came to life. Even though the flower program is newer to the community, Urioste has worked with New Mexico Clean and Beautiful in the past to fund and run programs that help clean up the town.
Each year Urioste runs volunteer groups like the Great American Cleanup in spring and the Trek for Trash in the fall. Now, some of the money awarded through the New Mexico nonprofit will go toward planting and maintaining fresh blooms outside the stores on Main Street. For the two women, adding flowers to the already quaint space seemed like a no-brainer.
"Who doesn't like pretty flowers downtown?" Van der Veen told the publication. "We just want to bring a pop of color to downtown. Business owners have told me they didn't have a green thumb but a lot of them that are already participating are doing a great job."
How New Mexico Clean and Beautiful Helps
Urioste and Van der Veen's vision couldn't have become a reality without help from New Mexico Clean and Beautiful. According to the program's official website, the goal of the initiative is to "invest in local governments by annually awarding grants to local programs that undertake litter control through elimination, education and eradication, beautification; recycling; graffiti and weed eradication."
In 2010 alone, the program awarded more than $550,000 to 54 municipal, county and tribal governments throughout the state.
Though getting flowers planted in your town might seem like a time-consuming undertaking, sharing flowers with loved ones or even with seniors living alone in your neighborhood can bring instant joy. With the warm weather here, it may be a nice gesture to offer to plant fresh hydrangeas or even a small vegetable garden for elderly neighbors as the not only boosts town spirit, but could show people how much you care.
Shop for colorful summer flowers!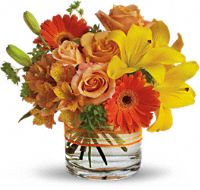 This article is brought to you by Michelle Farrell
and
published by Teleflora.