With more sunshine and slowly rising temperatures, your mind might be all about bright and happy things. Few flowers capture that as well as daffodils. These cheerful blooms make the ideal spring plant and are coincidentally March's flower of the month. Learn more about daffodils and how you can add them into your home:


What Are Daffodils
Daffodils most commonly appear in shades of yellow and white. They can also feature accents of orange. These colors paint six petals and a trumpet that rests atop them. Overall, the blooms appear to be announcing spring. Daffodils are perennials that pop up at the end of winter or the beginning of spring, depending on the weather and when they're planted. They usually bloom in groups, making them an excellent choice for gardens – you'll have color in your yard before the trees even start to bud. Avid planters also like daffodils because they're hearty. They do, however, require ample moisture while growing.


The Meaning of Daffodils
Like all flowers, daffodils carry a symbolic meaning, letting you send a message when presenting loved ones with a bouquet. As you might expect, these flowers are associated with rebirth and happiness, as they're spring-blooming plants. Additionally, some cultures believe them to be good luck charms for wealth, particularly if they bloom early. However, that good luck can turn to poor fortune if you present someone a single daffodil. Instead, present a whole bouquet.

In addition to bringing life, joy and prosperity, daffodils are the March birth flower and a traditional gift on 10th wedding anniversaries.


Caring for Cut Daffodil Flowers
If you're giving a daffodil bouquet as a gift or enjoying one at home, make sure you take care of the flowers. Fortunately, that process will be the same for these blooms as it is for others. Clean the vase and add new water every three days, or sooner if the water becomes cloudy, to prevent bacteria from growing too quickly. Additionally, place your vase in a sunny environment but avoid direct sunlight to ensure your daffodils don't overheat – this can cause them to wilt prematurely. Many florists choose to cut the flowers before they're fully open, as this helps them last longer. If the bouquet you order arrives and they're still closed, give them some time and care.

Additionally, daffodil's sap is harmful to other plants. As a result, most bouquets featuring these flowers don't have any other blooms in them. For example, you'll love Teleflora's Daffodil Dreams bouquet, which makes this flower the star of the arrangement. Yellow and orange petals are surrounded by greenery and stored in a square glass vase.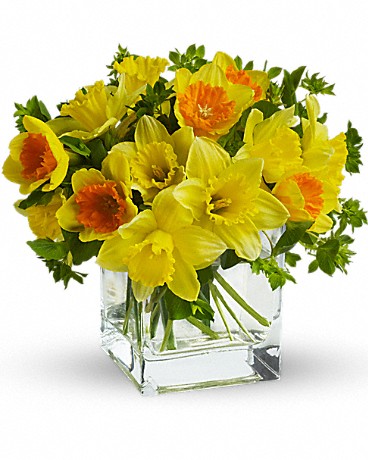 We hope you are able to enjoy March's flower of the month and incorporate it into your home this spring! The pop from these yellow flowers might be just what you need to get through your day.