Your mom filled your life with color, beauty and meaning. This Mother's Day, it's time to return the favor by gifting her the perfect bouquet. When selecting the ideal flowers for your mom, consider the meanings behind the blooms. Learn the meanings behind our Mother's Day bouquets and choose which arrangement to send Mom this year:
Sparkle And Shine Bouquet
Teleflora's Sparkle and Shine Bouquet boasts bright blossoms and a stunning, limited edition metallic glazed ceramic vase. This bouquet is all about being fun and fabulous, just like mom! The flowers featured in the Sparkle and Shine arrangement include:
Dark pink roses: Roses possess different meanings depending on their hue. The dark pink variety featured in the Sparkle and Shine bouquet are thought to represent gratitude, making them the perfect way to say "thank you, mom!"
White Asiatic lilies: Asiatic lilies are another prominent blossom in this stunning floral arrangement.These are a mid-sized, lightly fragrant lily and have been used in traditional celebrations for hundreds of years. These buds are thought to represent purity, fertility and motherhood, making them an excellent choice for Mother's Day.
Chrysanthemums: In Japanese culture, these flowers are seen as symbols of the sun due to their round shape and long, skinny petals, which resemble rays of light. They're thought to encourage long, healthy lives, and are representations of perfection and meditation.
Stock: Also known by the name gillyflower, stock flowers are well-loved for their sweet fragrance and abundance of blossoms. These blossoms represent contentment and happy living.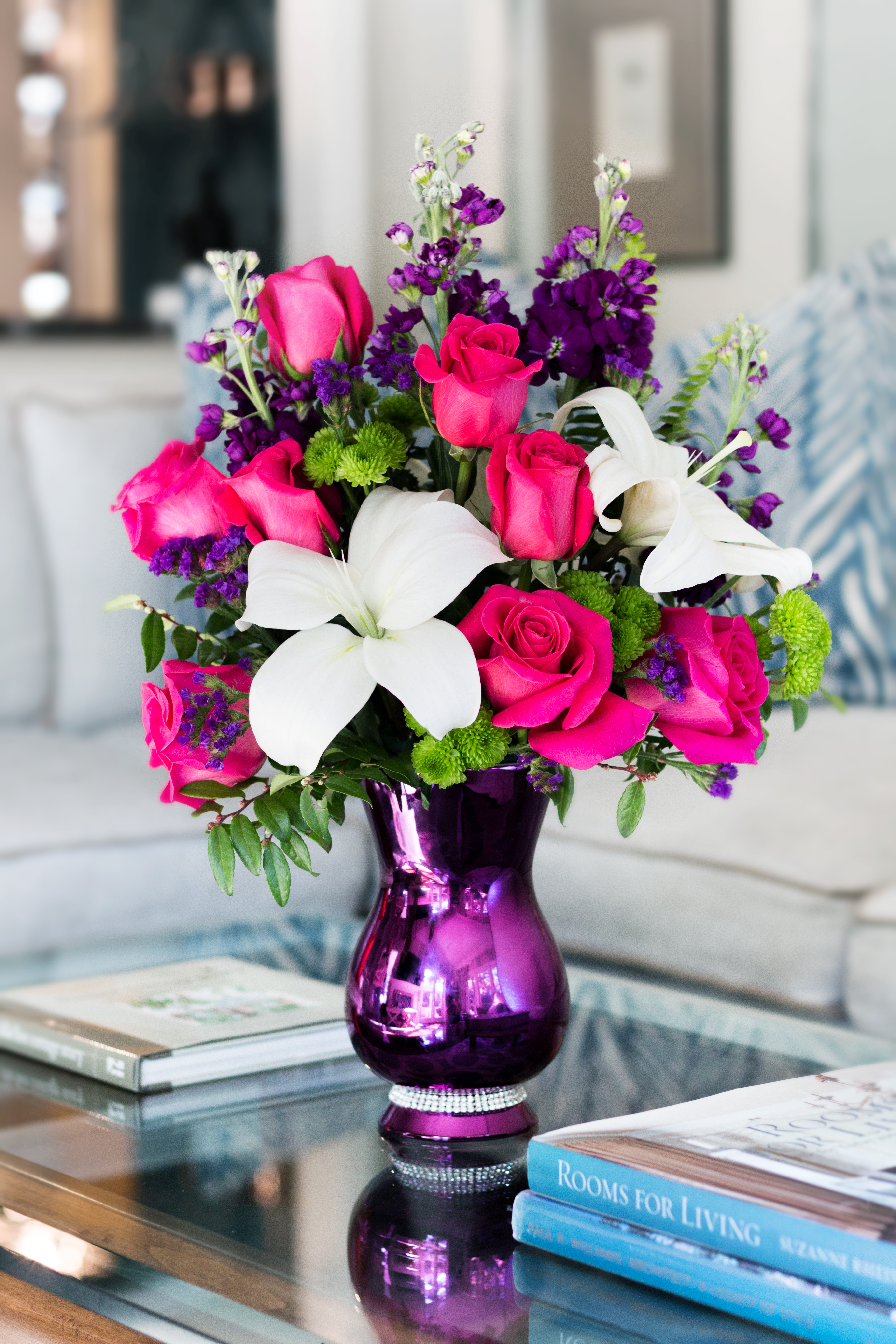 Splendid Garden Bouquet
If your mom has a green thumb, consider the Splendid Garden Bouquet, whose gorgeous flowers come contained in a limited edition reusable watering can. The flowers featured in the Splendid Garden Bouquet include:
Crème roses: This arrangement prominently features crème roses, which are considered emblems of humility and innocence.
Pink miniature carnations: Pink carnations are a symbol of gratitude. They are also associated with the Virgin Mary, and have come to represent a mother's undying love. As such, they're a perfect addition to a meaningful Mother's Day gift.
Statice: Often called "sea lavender," statice has become associated with concepts of remembrance and commemoration. The Splendid Garden Bouquet features the purple variety of these versatile blossoms.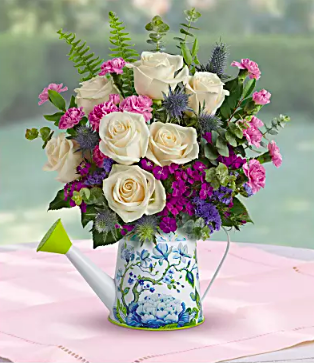 Dancing Violets Bouquet
The Dancing Violets Bouquet features a modern glass cube vase, complete with a whimsical pressed violet motif. This arrangement is the perfect balance of modern and traditional, making it perfect for moms with all different styles and tastes. Its blossoms include:
Lavender roses: These whimsical flowers represent two emotions every new mom feels when she's handed her bundle of joy: enchantment and love at first sight.
Purple carnations: Purple carnations symbolize whimsy and unpredictability. Mom has definitely enjoyed watching her children grow, but it has likely kept her on her toes.
Chrysanthemums: Rounding out this beautiful message are chrysanthemums, whose sun-like buds are symbols of long, healthy lives. After all, that's what your mom has always wanted for her beloved children!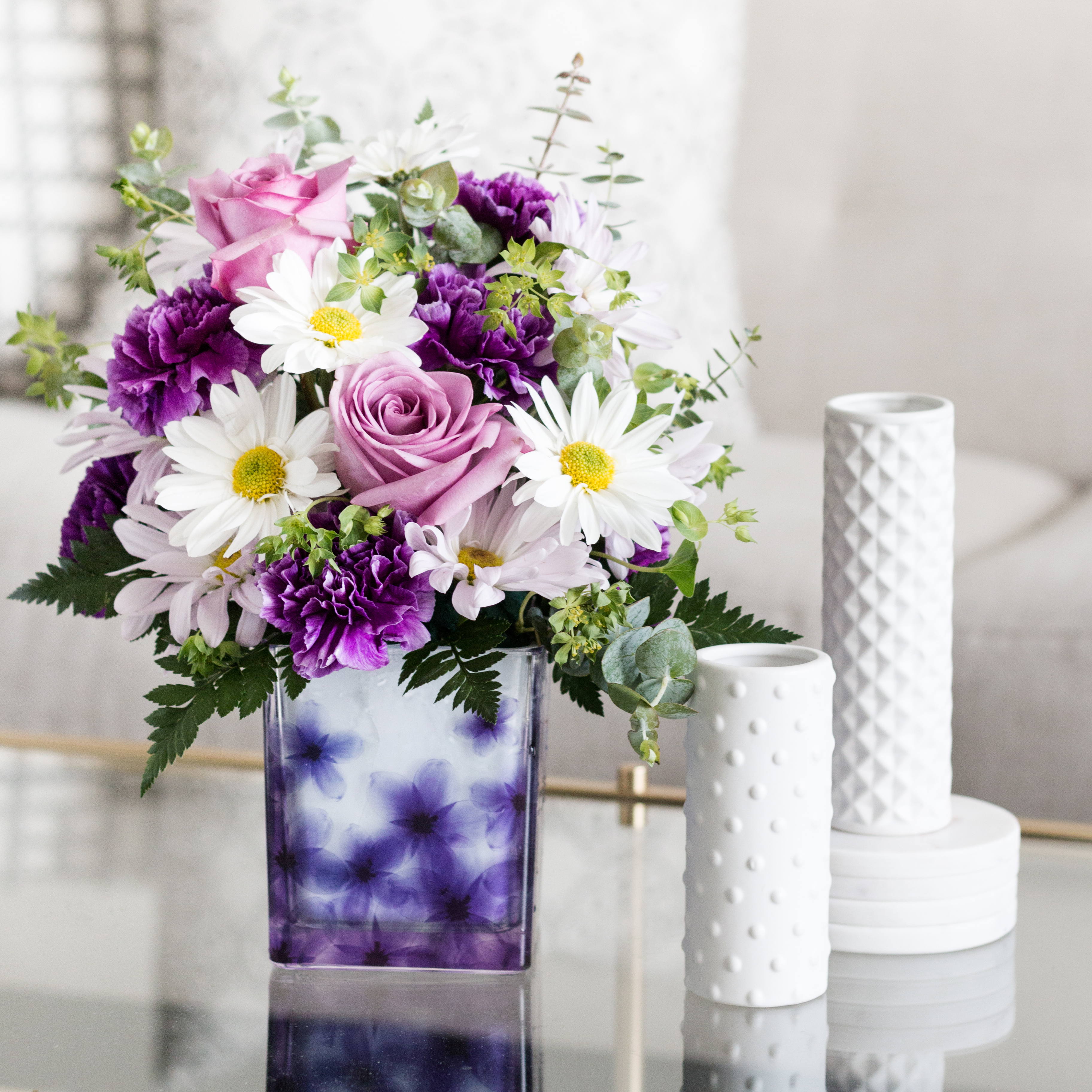 Artisanal Beauty Bouquet
If your mom loves to entertain, gift her the Artisanal Beauty Bouquet, which features a food-safe pitcher she can use long after your Mother's Day celebrations are over. The bouquet's floral selections include:
Crème roses: Off-white roses are bursting from this arrangement, offering a message of innocence and humility.
Alstroemeria: These flowers, which resemble small lilies, are representative of devotion and friendship – two important facets of a mother-child relationship.
Stock: Through the purple blossoms of stock, wish your mother a lifetime of happy living and contentment.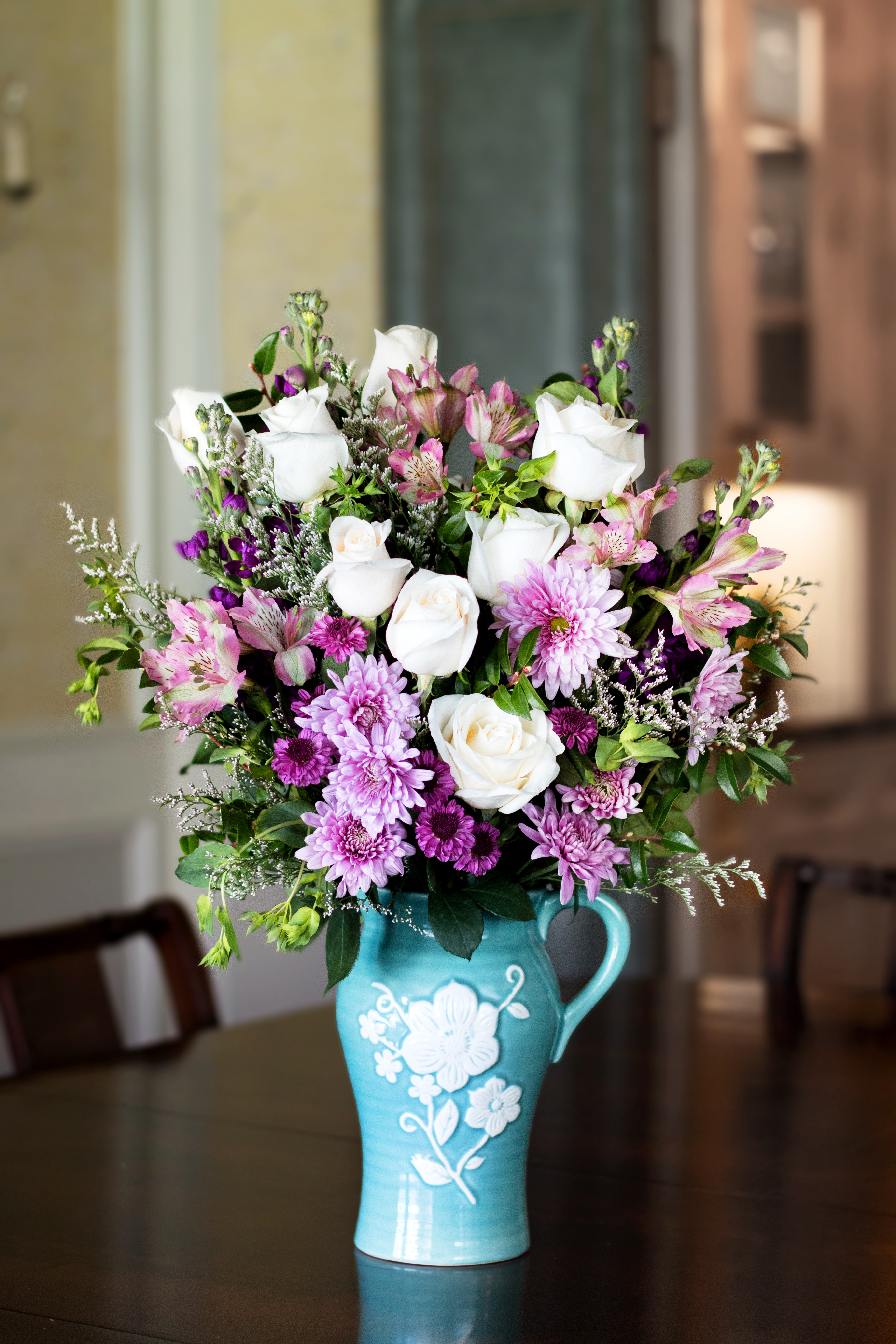 We hope you are able to find the perfect Mother's Day flower arrangement to send Mom this year. We can promise that no matter which one you choose, she will absolutely love it!