[et_pb_section][et_pb_row][et_pb_column type="4_4″][et_pb_text admin_label="Text" background_layout="light" text_orientation="left" use_border_color="off" border_color="#ffffff" border_style="solid"]
Feeling wistful for familiar surroundings is all too common for kids adjusting to college life. College brings a lot of changes all at once, and it can get pretty overwhelming. If your kids away at school are starting to feel a little homesick, there are ways you can help them feel that at-home support from a distance. Sending them a fun surprise can let them know you care, and remind them that you're always just a phone call away if they need you.
Here are a five ways you can give your college student a little slice of home:
1. Decorations
Dorm rooms are drab at best. A nice flower arrangement can bring a whole new atmosphere to your child's room, and help kindle ​his or her spirit. Consider sending Teleflora's Be Happy Bouquet: The yellow roses are the perfect way to bring the room a bit of good cheer, and the smiley-faced mug will be just the thing for your student's morning coffee or tea.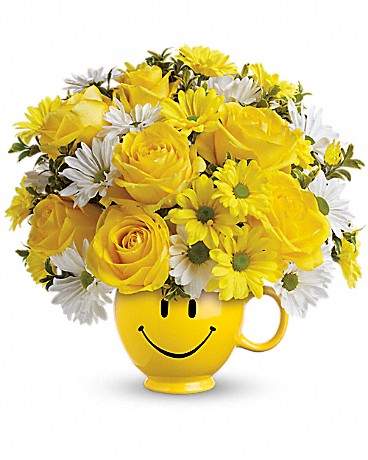 You can also send your college student posters or wall hangings to add a bit of personality to the space. Since most dorms have a no-nails rule, include some adhesive wall hangers. Washi tape is also a great no-nails wall hanging solution: your child can use the tape to make picture frames right on the wall.
2. Homemade Treats
If your son loves brownies, make a batch to mail him. If your daughter can't get enough of your homemade marshmallows, send some along with a box of graham crackers and some chocolate. The key here is to really tap into what they love, and what they'll associate with home. If you have any fun memories of making treats together, incorporate those into the care package. A quick note saying, "Remember when you insisted we added food dye to the batter?" along with some bright green chocolate chip cookies is sure to make them smile.
3. Photographs
Make a photo book of fun pictures you have around the house. These can be old school photographs, baby pictures, photos from family vacations – anything you have that your kids can look through when they're missing home. You can also send the pictures in a nice frame for them to put up somewhere in their room.
However, some kids might find that looking through old pictures makes them more homesick. If you think this might be the case, it might be best to hold on to the pictures, and maybe go through them together when they're home on break.
4. Toys
There's still a lot of "kid" in college kids, and your students will be totally excited to get a gift box full of games and toys. Fill a box with silly putty, Slinkies and playing cards, and they are guaranteed to have a good time.
There's a secret bonus to this care package: One of the best cures for homesickness is getting a stronger social circle. Multiplayer games will give them the opportunity to invite people over to hang out and have fun, building a support system away from home.
5. Healthy Instant Foods
College life is incredibly busy, and the odds are good your children don't always have time to eat the healthiest foods. Sending them a package full of instant oatmeal and dried fruits and nuts will help them make their instant meals at least a little bit more nutritious.
Protein and granola bars make great breakfast for students on the go. They'll definitely appreciate having a box around when they oversleep and have to rush to an early class. It's a whole lot easier to pay attention to a lecture without a rumbling stomach.
Check out our Back to School Flowers & Gifts and our Graduation Gift Ideas for more suggestions.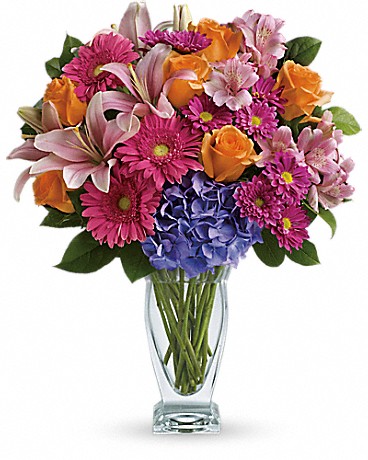 [/et_pb_text][/et_pb_column][/et_pb_row][/et_pb_section]