[et_pb_section][et_pb_row][et_pb_column type="4_4″][et_pb_text admin_label="Text" background_layout="light" text_orientation="left" use_border_color="off" border_color="#ffffff" border_style="solid"]
Our blogger friend Stacie has a thing for flowers. For years, she's been giving them as gifts, pick-me-ups and condolences, and sometimes for no reason at all. She is drawn to them like a moth to a flame…or a bee to extremely succulent landscaping. Stacie's obsession with flowers didn't blossom overnight, though. Her husband got her hooked on fresh buds in a very thoughtful way, by sending her flowers every single week for an entire year. Wow! "There were always fresh flowers in the house and it just made everything seem brighter," she says. "I also love giving flowers and so do my children."
Now, Stacie fulfills her floral fancy with Teleflora. We recently sent her the Teleflora Fun 'n Festive Birthday Bouquet to add a colorful splash to her day. Our birthday flowers category is filled with a ton of favorites, so any recipient is bound to be drawn in by the alluring scent of a familiar flower. "This vibrant bouquet is truly a celebration in a mug!" she exclaimed of the orange roses and red carnations against a backdrop of green button and yellow cushion spray chrysanthemums with fresh lemon leaf.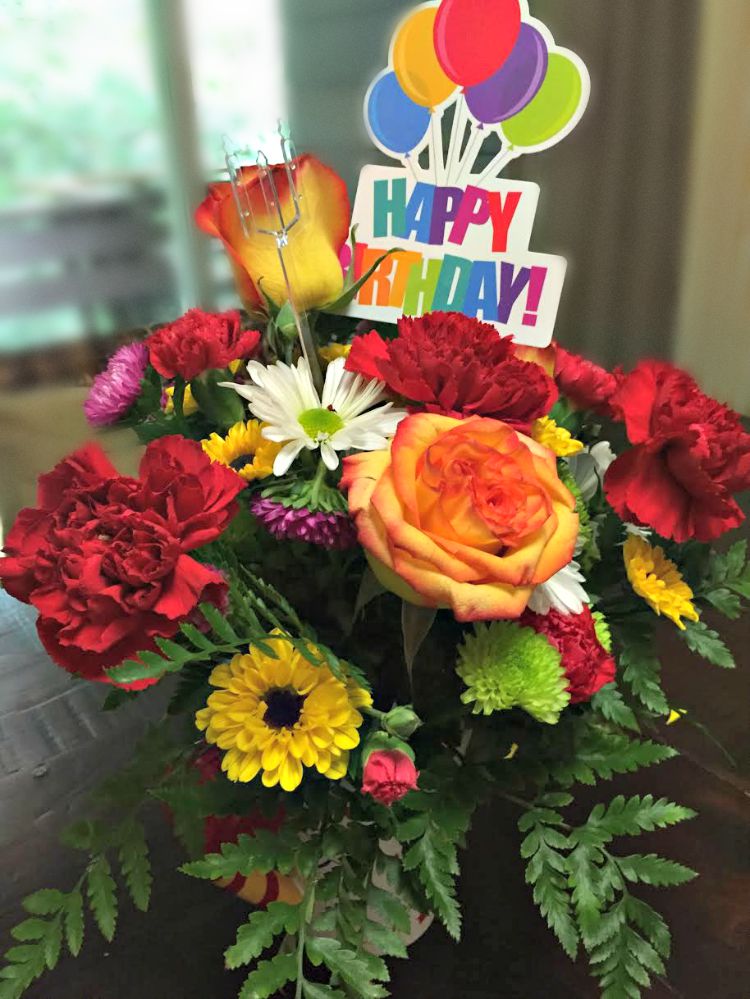 "I have to tell you that Teleflora is my new favorite florist," she continued. "I cannot imagine ordering from anyone else. The ordering process was simple and straightforward. Moreover, the bouquet was EXACTLY what I ordered. Exactly. It looked just like the pictures."

That means a lot to us, especially coming from such a devoted lover of flowers! It's important to us that customers get everything they're expecting and more, so it's wonderful to hear when we've brightened someone's day. Check out more of Stacie's feedback – and find out what she did with her latest bouquet – over on Divine Lifestyle.
[/et_pb_text][et_pb_image admin_label="Image" src="http://teleflora.scene7.com/is/image/Teleflora/TBC01-1C?&wid=368&hei=460&fmt=jpeg&qlt=90,0&op_sharpen=0&resMode=bilin&op_usm=3.0,0.5,1.0,0&iccEmbed=0&layer=1&opac=0&layer=2&opac=55&layer=5&opac=0&layer=3&opac=0″ alt="Teleflora's Fun 'n Festive Birthday Bouquet" title_text="Teleflora's Fun 'n Festive Birthday Bouquet" show_in_lightbox="off" url="http://www.teleflora.com/bouquet/telefloras-fun-n-festive-bouquet/p_tbc01-1a?srccode=SC_NB" url_new_window="on" animation="off" sticky="off" align="center" force_fullwidth="off" always_center_on_mobile="on" use_border_color="off" border_color="#ffffff" border_style="solid"]
[/et_pb_image][/et_pb_column][/et_pb_row][/et_pb_section]