How To Make Your Own Sunflower Seeds
If you have a vase of sunflowers sitting on your kitchen table, they can be way more than decoration. Sunflower seeds are a nutritious and easy-to-make snack that are a great addition to salads or trail-mix. They're also perfect for long summer days spent out in the park, playing baseball or enjoying a book. Why let your sunflowers go to waste?
Here's a simple recipe for roasting homemade sunflower seeds
Shop for Bouquets with Sunflowers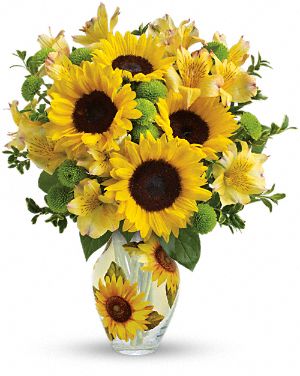 Roasted Sunflower Seeds
The first thing to remember is to wait for the flowers to wilt. The seeds should be plainly visible. This will help ensure your seeds are as big as they can get before you roast them. Large varieties of sunflowers work best. Cut away the head from the sunflowers in your garden or vase, then lay it flat on a table. Rub or pluck out the sunflower seeds. This can be a messy process.

Photo credit:SimplyRecipes.com
Once you have your sunflower seeds, rinse them off thoroughly. Make sure all the flower matter is removed. Fill a pot with water and salt to personal preference. Let the water begin to boil, add the sunflower seeds and reduce to a simmer. Let simmer for an hour to 90 minutes. Another way to do this step is to simply soak the sunflower seeds in saltwater overnight.
Preheat the oven to 300 degrees. Drain the sunflower seeds in a colander and dab with paper towels to remove excess water. Spread the sunflower seeds on a baking sheet evenly and place in the oven for half an hour to 40 minutes. Remember to stir the seeds regularly to ensure they cook evenly. When the seeds are fully roasted, remove them and allow them to cool. Taste the seeds and salt again to taste, or add other spices to flavor.
AUTHOR:
This article is brought to you by Michelle Farrell and
published by Teleflora.