Perhaps you'd like to get creative with your decorating this year, swapping out your store-bought items for pieces that you made yourself. You might decide that arranging a bouquet of festive flowers yourself will give you the customized look you wanted out of this year's decor. Even though there's an art to skillful flower arranging, it's something you can accomplish at home, no problem. Pairing different flowers is one thing, but it's another altogether to transform your DIY arrangement into one that looks expensive and professional. Here are some ideas on how to make Christmas flower arrangements of your very own this year:
Light It Up
Maybe you plan on making a centerpiece for your holiday party or would like to create a mantel decoration that will dazzle everyone in your home. Something that can add a little something special to any festive arrangement is a lovely candle. It could be a 10-inch taper candle that towers above the blooms that make up this display, or it might be a short and stubby soy candle in a glass holder. You might want to light the candle on a special occasion or you may prefer to leave the wick intact. No matter what color and type of candle you choose and your plans for it, you can get creative with your homemade floral arrangements by adding a piece that will light up your home, literally and figuratively.
Make Use of the Great Outdoors
When you're making Christmas floral arrangements for yourself and your loved ones, you'll want to ensure each bouquet looks as professional as possible. Few elements can bring your arrangement to the next level quite like contrasting the blooms against decorative greenery. You can get some holly and pine from your local florist or tree nursery or you can get your hands dirty, salvaging some materials right from your backyard.
Our Christmas Wishes Centerpiece combines delicate red and white flowers with fir and pine, items that can easily be trimmed from a lush Christmas tree or from a branch in your backyard. Additionally, we've accented this piece with red berries and pinecones to add some texture and color. If you'd like to mimic this style in your own festive bouquet, look around your yard for pinecones that are in good shape and add them to the top of a lush centerpiece arrangement.
A word of caution: When you decorate with pinecones, leaves, branches and other elements from the outdoors, make sure to check that they are free of bugs. One tip we've seen around the internet is to bake the pinecones at a low temperature to rid them of any creepy-crawlies. Preheat your oven to 200 degrees and put your pinecones in for about 40 minutes. They can go right on the metal racks; no need for a baking tray!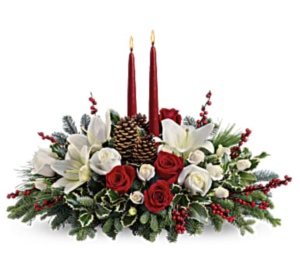 Play Off What You Have
Do you own some interesting holiday decorations that just don't seem to fit into your interior design the way they used to, but they're just too lovely to leave in storage? You can incorporate them into your arrangement with flowers that match your home's color scheme to seamless integrate them into the rest of your design.
Take some inspiration from Thomas Kinkade's Festive Fire Station Bouquet. This arrangement features a fun and festive fire station keepsake, adorned with a breathtaking arrangement of roses and carnations. By mixing a piece of festive decor with a bunch of stunning red and white flowers, you can place it anywhere around the home, even in your formal dining room during the classy holiday feast.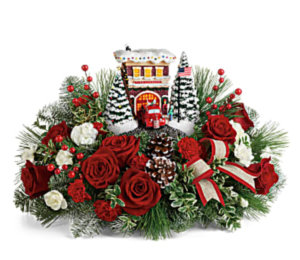 Not Your Mother's Fruit Bowl
In addition to using greenery to DIY a flower arrangement, stretch your creativity to incorporate some edible goodies into your bouquet. One fruit that's in season during the winter – and seems to be a top choice for holiday decorating – is oranges. Maybe you're planning on making orange-clove pomander balls to add a nice scent to your living space, or perhaps you'd rather keep your oranges intact for eating. No matter, you can add some of these citrus fruits to your flower arrangements for some color, texture and personality. Some other fruits that do well in the winter – and look nice against flowers and greenery – include apples, pears, lemons, clementines, cranberries and figs.
Looking for some inspiration on how you can really hit the mark when decorating with fruit? Check out our Merry Magnificence arrangement, which features a mixture of shiny apples and festive flat cedar and noble fir. The bold shade of the apples contrasts nicely against the dark branches and leaves, using the prominent holiday color combo of red and green for added festive charm. Plus, the arrangement has a lovely candle in the center, thus leveraging the first tip we listed above.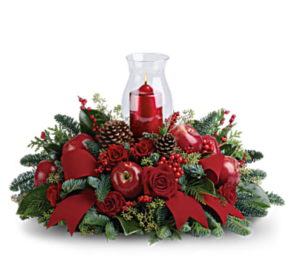 Of course, if you'd rather buy Christmas flower arrangements from experts who know just how to mix and match flowers and greenery types, check out our selection of festive bouquets!