[et_pb_section admin_label="section"][et_pb_row admin_label="row"][et_pb_column type="4_4″][et_pb_text admin_label="Text" background_layout="light" text_orientation="left" text_font_size="14″ use_border_color="off" border_color="#ffffff" border_style="solid"]
December is here and that means it's time for families to start decorating the home both indoors and out for the festivities to come. This decorating may be even more fun with youngsters running around, so be sure to include them in all the excitement.
Pick out the tree
When it comes to kicking off the Christmas season, nothing says it quite like getting the family Christmas tree. Before heading out to the local farm or store, make sure to measure the space you'll be placing the tree to avoid coming back with one that is too large or small for the area. Next, grab the lights and even have the kids string some cranberry strands to give the tree a classic feel.
Make decorations
Another easy idea to enhance the holiday spirit around the home is for the kids to craft some decorations – whether ornaments, garlands or more. One ornament idea to try is to collect a bag of pine cones and then have the kids spray them with gold or silver spray paint. Next, let them roll the cones in glitter and then tie a ribbon on them and voila! You'll have beautiful and crafty creations.
Bring in festive flowers
Christmas is not complete without the addition of a red poinsettia. Teleflora's Red Poinsettia is a must for holiday decor as the bold red and green plant comes in a gorgeous natural basket that will work with any interior style.
This article is brought to you by Teleflora – a leader in the flower delivery service for over 75 years. Teleflora helps its customers buy flowers online and specializes in bringing the freshest available flowers for a variety of holidays and occasions – all hand-delivered in keepsake vases by the best local florists.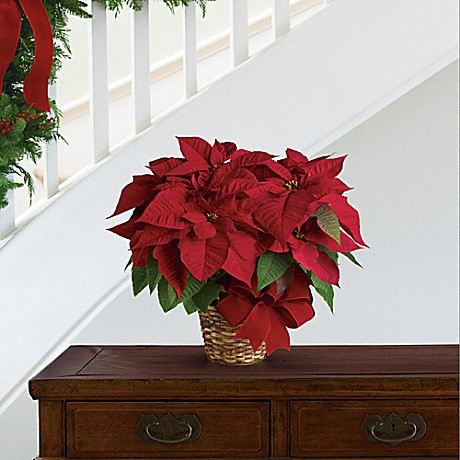 [/et_pb_text][/et_pb_column][/et_pb_row][/et_pb_section]