How to create a fetching fall floral centerpiece
The diverse, vibrant colors of autumn mean it's a perfect time for refreshing your home with a new centerpiece. Whether in your dining room or office, these decorations can completely transform any space. Wondering how to create your own personalized piece to celebrate the upcoming season? Follow these steps and you'll have an ornate display that's unique and inviting.
Pepper in Pumpkins
Pumpkins are a no-brainer when it comes to fall decorating, but you might not have thought to include them in your fall floral centerpiece. Try mixing small ones in a shallow pot with orange and red rosebuds for a really rich display. After clipping the roses' stems, line the outside of the dish and work your way inward, adding in pumpkins as you go. Make sure to buy the smallest gourds you can find, as larger pumpkins could overwhelm the piece or crush the delicate blooms.
Teleflora's Country Pumpkin Fall Centerpiece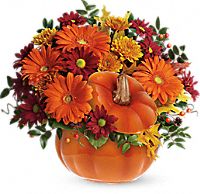 Better Homes & Gardens also recommended attaching flowers to a pumpkin. All you'll need are a bunch of medium-sized blossoms and a hot glue gun. The magazine suggested multi-colored mums, but this idea could work with a multitude of other flowers that have flat buds. Start by cutting the flower just below where the head meets the stem, then use a small amount of hot glue to stick the blossom onto the pumpkin. Finish by tossing in bright fall leaves and arranging small gourds around it for a more intricate design. Alternatively, you could always carve out the top of the pumpkin and use it as a vase!
Supplement with Seasonal Fruit
Fruit and flowers go hand in hand for these decorations. Opt for seasonal selections that are long-lasting, like apples and pears. Better Homes & Gardens suggested sticking with the same color for a more cohesive design, and only pouring 1 inch of water in the bottom of the container. Another advantage to including fruit is that it's an inexpensive way to fill out your centerpiece, according to The Kitchn. The source detailed that wooden skewers can be used to spear the apples so that they reach the same height as taller stemmed flowers. Red apples look especially striking against the contrast of pure white blossoms.
Diversify with Little Details
It's all in the details when it comes to a centerpiece. Better Homes & Gardens noted that spraying flower petals with a subtle mist of gold paint could make them gleam, making for a truly unusual bouquet. You could also add unexpected pieces like pinecones or seedpods to a floral arrangement for a more rustic piece with a lot of texture and intrigue.
Decoist pointed out that choosing a complementary color for your table runner can really make the centerpiece stand out. For example, if the blossoms are yellow, try a purple tablecloth. You might want to consider an unusual container to display the flowers and other elements in as well. Better Homes & Gardens suggested halving a globe for a vase with vintage appeal. Decoist explained that a milk glass urn perfectly complements the pumpkins' ivory stripes.
This article is brought to you by Michelle Farrell and
published by Teleflora.