As a leader in the flower industry, Teleflora knows a thing or two about beautiful arrangements made from the season's freshest flowers. We're constantly testing new colors, types of flowers, and textures to make sure that our customers are getting bouquets incorporating the latest trends. Our Product Development team took Teleflora's innovative designs to a whole new level with our Spring Collection and are continuing to do so with every new flower arrangement we release.
Teleflora is going beyond the traditional flower bouquet and is now featuring beautiful succulents alongside favorite flowers. Plus we're bringing fresh, new colors into the mix. Read on to learn about our new flower arrangements and why succulent plants are so popular in the flower industry.
Succulents Bouquets at Teleflora
This spring, Teleflora made a move to incorporate more simplistic and sustainable blooms into our bouquet designs so that the recipient could enjoy their beautiful gift for a longer period of time, while also making our arrangements on-trend, open and romantic.
Adding long-lasting succulents to our flowers extends the life of the gifts our customers are sending to loved ones, so it's the best of both worlds. People are still receiving the bright beautiful colors and scent from the flowers; the bonus is something they can continue to grow and enjoy long after the flowers are gone.
Succulents aren't new to the world, but they have gained increasing popularity due to the convenience of owning them. Especially true for millennials, having space and time for a garden isn't as attainable as it was in the past. Therefore, setting a small space aside for a few easy-to-care-for plants is just what people need to add some color, life, and responsibility to their homes. Their simple, rustic beauty makes them highly visual on social media, only increasing the demand more to add these to homes, desks, and patios across the country.
After only a few months of being released on Teleflora's website, our new succulent flower arrangements have quickly gained traction. Despite being a new add, Teleflora Desert Sunrise bouquet was already in the Top 20 arrangements for Valentine's Day and then made it into the Top 10 bestselling arrangements for Mother's Day.  We plan to incorporate succulents into several of our new bouquets, underscoring the popularity of succulents and our response to this growing trend.
Succulent bouquets can be enjoyed throughout the year, no matter the person or occasion being celebrated. Right now, we have a beautiful summer arrangement perfect for the women and the men in your life; the Perfect Chevy Pickup by Teleflora bouquet is just the right amount of masculinity and beauty. If you feel like adding in some rustic beauty to your holiday flowers, Teleflora's Winter Wilds Centerpiece is a perfect match.  These are just a few of our available succulents bouquets and the beginning of many more!
We have even more designs coming this fall, so be on the lookout for our new flower arrangements!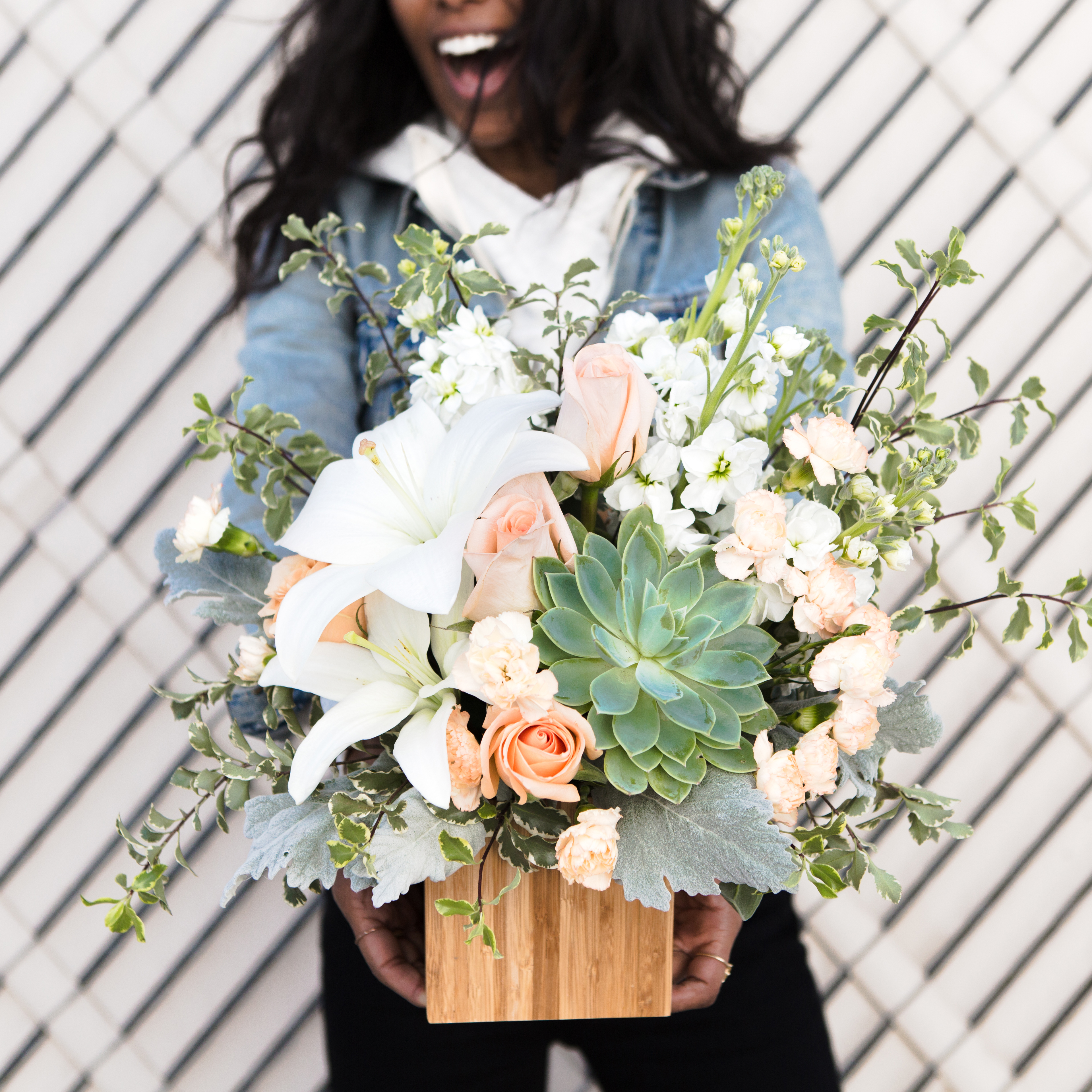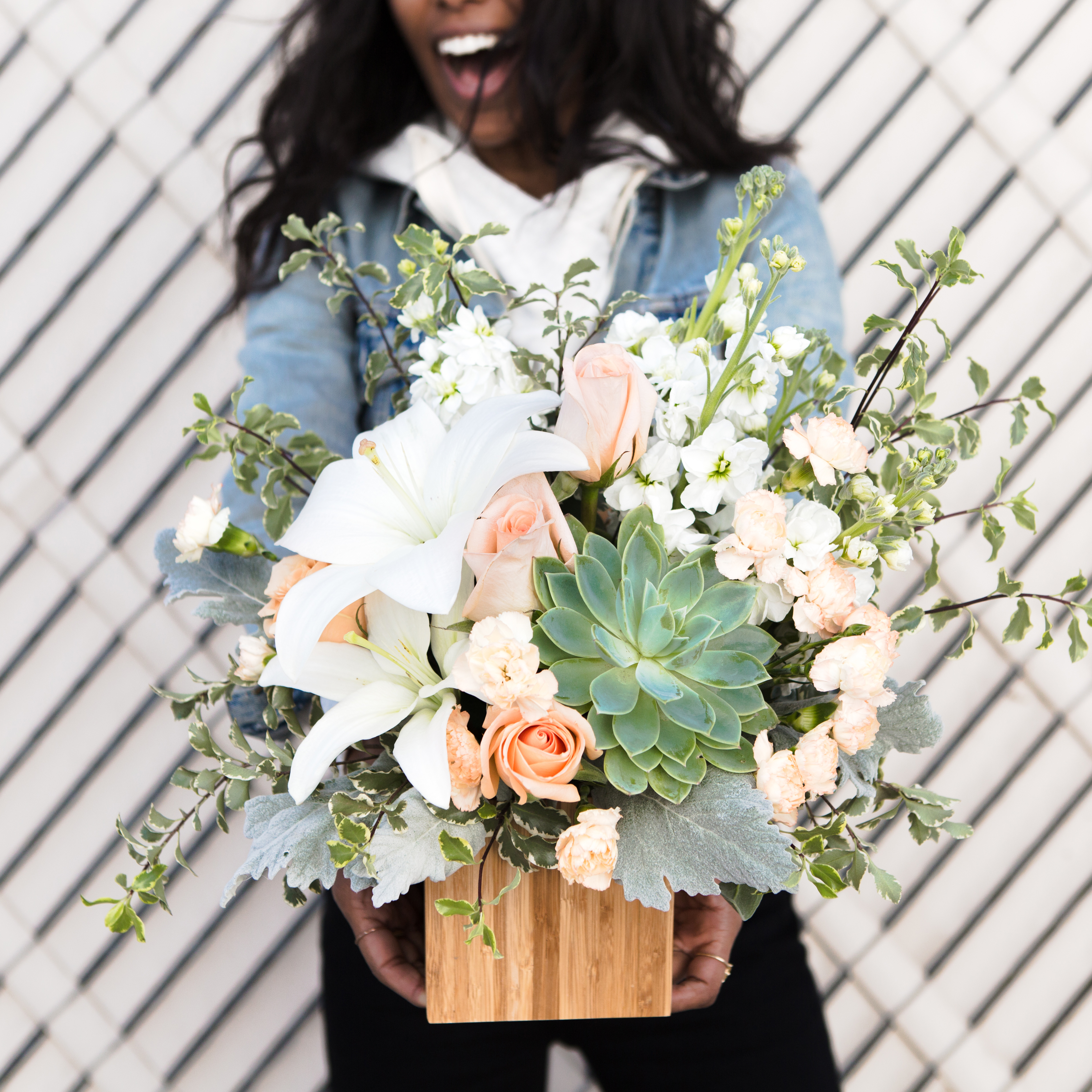 How to Care for Your Cut Flowers
When it comes to keeping your favorite blooms looking fresh for as long as possible, Teleflora has a few tips and tricks:
Add a few drops of vodka and a tablespoon of sugar to the water
Store your flowers daily in the fridge overnight
Change the water daily to keep the water fresh and clear
Add a penny to the water to fight bacteria
Now, succulents are completely different from flowers. You can actually replant the succulents that come in your bouquets, so that you can enjoy them and the memory of your beautiful bouquet long after your flowers are gone.
How to Replant Your Succulent and Help It Grow
Remove the picking material the florist added to the root of the succulent
Replant in a garden or pot using cactus soil
Make sure they are in the sun and only water when the soil is dry–typically every 7-10 days
We are very excited to be bringing you new, on-trend flower arrangements incorporating the sustainability and beauty of succulents. We hope that you enjoy our new creations. As always, your bouquets will be hand-arranged and hand-delivered by local florists, ready to be enjoyed by yourself or your loved ones immediately upon delivery.