Memorial Day is when we honor our fallen soldiers, whose immense sacrifices help keep our nation safe. For many, this day also marks the beginning of summer, and signifies renewal, warmth and togetherness. Across the U.S., people observe this patriotic celebration by spending time with family, soaking up the first rays of summer sun and reflecting on the many people who gave their lives in service to our country.

Flowers have long been used to memorialize loved ones and symbolize new beginnings, which makes them an ideal addition to your Memorial Day observance. Whether you plan to send flowers to your friends and family in the armed forces, lay blossoms at the markers of soldiers who have passed on or use arrangements to brighten up your party decor to kick off summer, patriotic bouquets are the perfect way to celebrate this holiday. Here our some of our favorite flowers for Memorial Day Celebrations.

America the Beautiful by Teleflora Bouquet
This arrangement is bursting with red, white and blue flavor – and even includes a miniature American flag! Overflowing with red roses, red carnations, white lilies, blue statice and more, it's the perfect patriotic pick-me-up for military families remembering their fallen kin and a great way to say "thank you" to the veterans in your life. The arrangement comes in a limited edition blue contemporary curb vase, which can be used told hold flowers and candles in the future.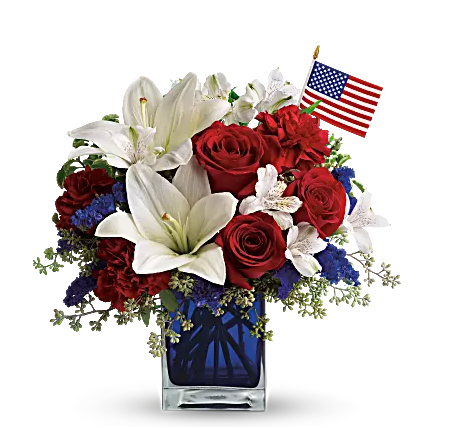 With Distinction Bouquet
Elegant and All-American, the With Distinction Bouquet is the perfect arrangement for honoring the memory of those who have laid down their lives in service of the U.S. Featuring a symphony of bright, fresh flowers in patriotic hues, this bouquet symbolizes strength, freedom, hope and perseverance. The arrangement emerges from simple, classic white urn, which serves as the perfect backdrop for its cascade of colorful blooms.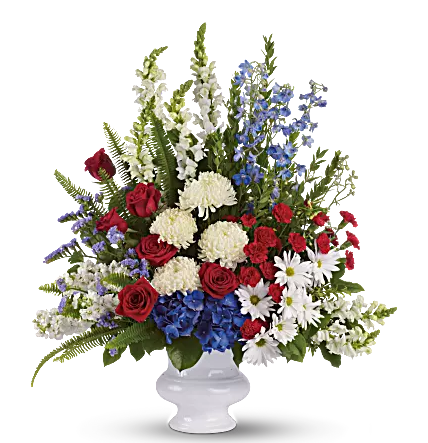 Beautiful in Blue Bouquet
Blue was incorporated into the U.S. flag to represent perseverance, justice and vigilance. Draw inspiration from these quintessential American values by displaying the Beautiful in Blue Bouquet this Memorial Day. This floral arrangement showcases diverse shades of blue and white in the form of hydrangeas, roses, lilies, mums and more, conjuring up images of bright skies and endless seas. Available in multiple sizes, the Beautiful in Blue Bouquet comes in a cobalt glass vase that you can use for years to come.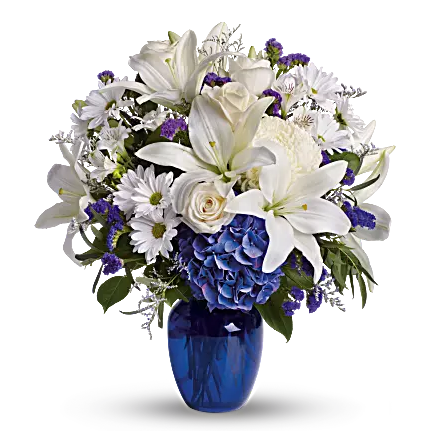 Memorial Day is often known as the unofficial start of summer, but it is important to remember what the day stands for as well. These patriotic bouquets keep the memory of the fallen soldiers alive and honors them for everything they did for our country.