There's no time like summer to experiment with fresh floral cocktails. Flower-infused alcoholic beverages have become all the rage over the past few years, and they make the perfect addition to any warm weather celebration. Light, crisp and colorful, these concoctions are perfect for sipping under the sun.  This season, impress your party guests with one of these tasty floral cocktails inspired by Teleflora's favorite summer flowers:
Aviation
The aviation cocktail was first crafted in New York City at the turn of the 19th century. It gets its tangy, botanic flavor from creme de violette and gin. To make this drink according to Honestly Yum's recipe, you'll need:
1 edible violet

2 ounces gin

3/4 ounce lemon juice

1/2 ounce maraschino liqueur

1/4 ounce creme de violette
Fill a cocktail shaker with ice, then add all the liquid ingredients. Shake everything together for about 10 seconds, strain the drink into your serving glass of choice and garnish with the edible violet. Invite your friends over for some aviations and decorate using Teleflora's Dancing Violets Bouquet.
Rose Margarita
For a floral take on classic summer favorite, look no further than the rose margarita. This cocktail, created by mixologist Junior Merino for Paste magazine, uses rose petals and rose syrup to give the traditional marg a seasonal upgrade. Make your own by grabbing the following ingredients:
1 1/2 ounces blanco tequila

1 ounce fresh-squeezed lime juice

3/4 ounce rose syrup

3/4 ounce orange liqueur

Hibiscus and rose salt

3 organic rose petals.
To begin, prepare your margarita glass by rimming it with hibiscus and rose salt. Combine the liquid ingredients and the rose petals in a cocktail shaker filled with ice. Shake until all the ingredients are well-mixed, pour into your rimmed glass and garnish with additional petals. This drink pairs beautifully with Teleflora's Rose Rapture Bouquet.
Bachelor's Button Martini
As light as a feather and as frothy as a cloud, the Bachelor's Button Martini is the perfect cocktail to nurse on a hot summer night. Assemble the following ingredients to make Anthropologie's favorite version of this airy, floral delight:
For the cocktail:
2 ounces gin

1 ounce lemon juice

1 egg white

1 1/2 ounces Lillet Blanc

1/4 ounce bachelor's button simple syrup

carnation and bachelor's button petals.
For the bachelor's button simple syrup:
1/4 cup bachelor's button petals

1 1/2 cups sugar

1 cup water.
To craft this cocktail, begin by mixing the bachelor's button syrup. To do so, add the bachelor's button petals, sugar and water to a saucepan over medium heat. Stir the ingredients together as you bring the syrup to a boil and allow it to simmer. Once the sugar has dissolved completely, turn the heat down to low and cook the mixture for an additional 15 minutes. Once the syrup is cool, strain it into a cocktail shaker filled with ice. Add the gin, lemon juice, egg white and Lillet Blanc. Shake for about 30 seconds, or until the cocktail becomes frothy and foamy. Pour the drink into a martini glass, adorn with extra petals and start sipping. For the full floral experience, imbibe these martinis alongside Teleflora's Garden Delights arrangement.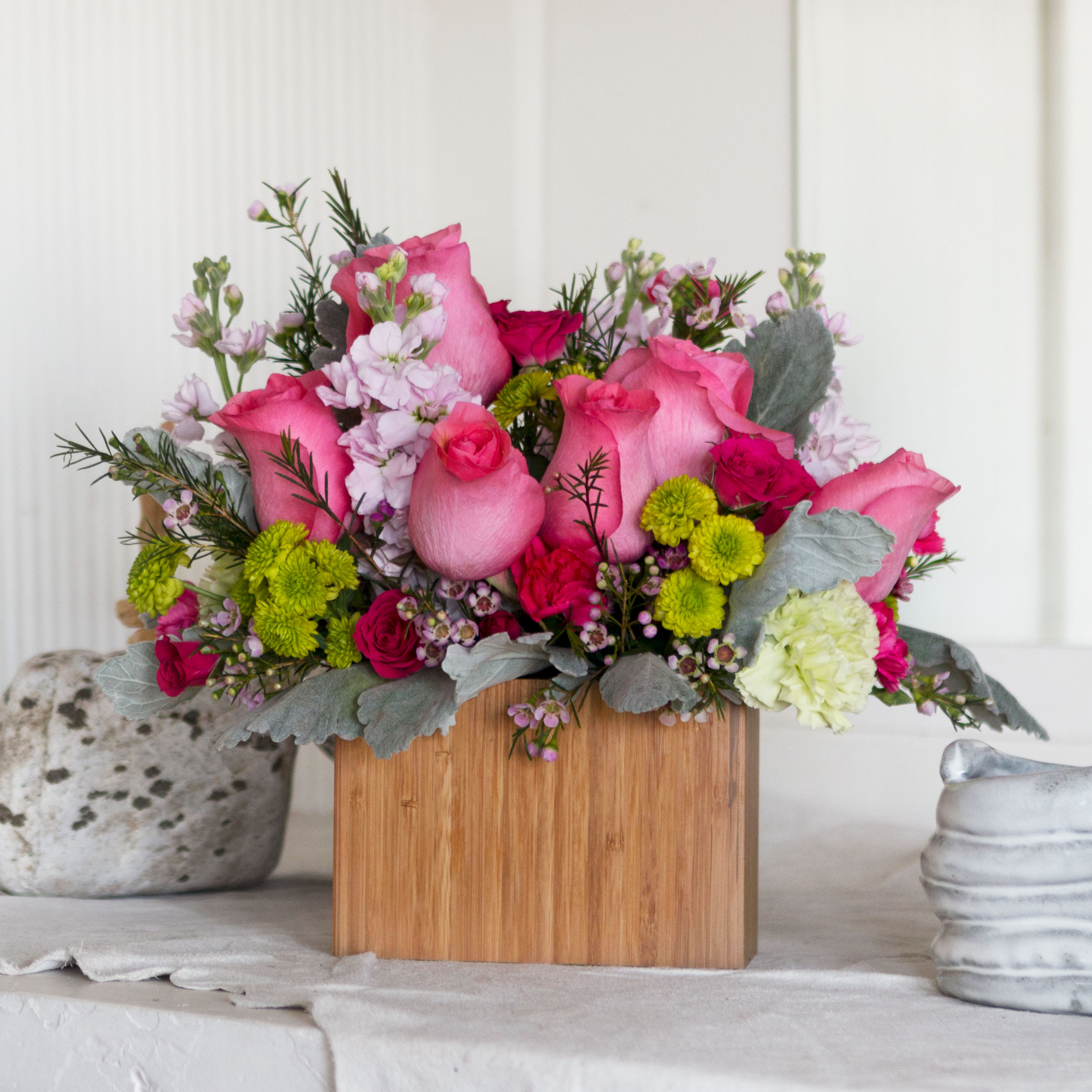 Let us know your favorite combination below! These are only a few of our favorite summer flowers and drinks, so let your creativity take over a create one of your own. There are so many different edible flowers that you can use to create your very own summer signature meal and floral cocktail!