Now that summer is officially underway, it seems as if the world is in full bloom at last. Whether you get to spend all summer outside or just have to admire it from your desk, adding some brilliant seasonal blooms adds the perfect touch to your daily routine. Here is a list of our top five flowers for summer (and our favorite Teleflora bouquets), so you can celebrate this short, but sweet season surrounded by the best nature has to offer.
1) Roses:
While these famous flowers are most often associated with Valentine's Day flowers in February, roses love summer. They are actually considered by some to be the first sign of the season because most varieties start blooming in mid-June in full sun, and then again in the fall when temperatures drop slightly. The staggering popularity of this flower means that it grows in almost every color imaginable, so don't feel limited to red. Arrangements like Teleflora's Blossoms in Vogue Bouquet are just as spectacular with multicolored roses in warm hues of yellow, pink, and orange as a bouquet of a dozen red roses.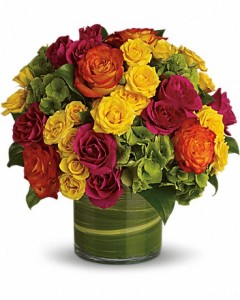 2) Dahlias:
One of the most versatile flowers of summer are dahlias; these interesting blooms are the official flower of Mexico and love warm, dry weather. Dahlias come in a truly staggering array of colors and grow in several different varieties. The striking, spiky flowers vary in size and shape and bloom for much of the summer. While they are not fragrant, they are so eye catching that they make wonderful additions to any arrangement.
3) Daisies:
These simple but pleasant flowers have earned a reputation for being happy and friendly symbols of the summer season. Daisies bloom throughout June and July and come in several varieties, but perhaps the most recognizable is the Shasta Daisy, the white-petaled, yellow-faced flower seen in gardens all around the world. Often integrated into summer bouquets, like Teleflora's Sunny Day Pitcher of Daisies, they are an excellent flower to celebrate the long and lazy days of the season.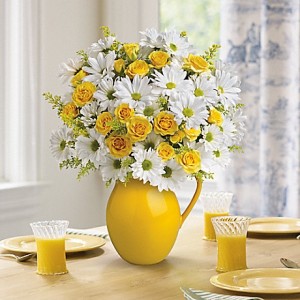 4) Lilies:
These fragrant flowers are synonymous with summer. Wild lilies thrive in almost every environment and spread quickly in damp sunny spots, such as creek beds. While wild lilies are typically small with orange blooms and long, spiky leaves, cultivated hybrid varieties like Easter lilies are most often used in bouquets; their fragrant flowers are much larger with delicate petals that are pleasant to the eye.
5) Sunflowers:
The classic symbol of summer, sunflowers are everything their name promises. These enormous flowers sit atop long, hardy stalks that can grow upwards of 6 feet tall, but smaller versions have become increasingly popular with gardeners and bouquet lovers alike. Sunflowers are featured frequently in summer bouquets, and if trimmed properly, they will look fresh and beautiful for days in an arrangement. Teleflora's Sunny Sunflowers bouquet is the perfect touch to any room this season.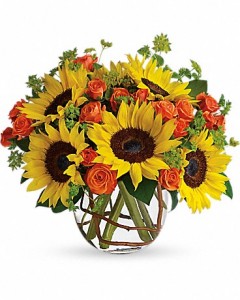 Did your favorite summertime bloom make the list? You can find these special blooms and many more in bouquets at Teleflora.com.