During the weeks leading up to Mother's Day, our thoughts are always in one place: "What should I get for my mom to celebrate the special holiday?" While some opt for clothing or beauty products, it's no secret that every mom loves receiving homemade gifts. If you aren't feeling super creative, there's no need to worry! We have the perfect do-it-yourself gift idea for you: a bouquet. Flowers make the perfect Mother's Day present, and an arrangement you put together yourself will be even more special. 
If you aren't sure where to begin, take a look at this step-by-step guide for Mother's Day flower arrangement ideas you can create this year.
1. Choose Your Focal Points
The first step to creating a beautiful and unique flower arrangement is to decide which florals you want to use as the focal point. If you know your mom has a favorite flower, that's a great place to start. If not, you can never go wrong with traditional springtime flowers. Some classic spring favorites include tulips, Shasta and gerbera daisies, hydrangeas, lilies and irises. And don't forget roses, which are always a fitting option. A bright spring color like orange or yellow might be more suitable than red for this particular holiday.
2. Use Complementary Accents
Now that you've chosen your focal flowers, pick out blooms you can use as accents in the bouquet. Since your focal flowers are typically the larger and more distinct features, your accent flowers should complement their color and shape while filling the arrangement out. You can pair any two flowers together, but keep the color combinations in mind to ensure they'll blend well. Common accent flowers include daisy spray, rose spray, lavender, small carnations or chrysanthemums.
3. Find a Filler
When it comes to Mother's Day arrangement ideas, you might want to consider fillers. Fillers are used to add a little bit of green to the arrangement, although many have tiny blossoms as well. Fern leaves, baby's breath, Queen Anne's lace, stock, seeded eucalyptus, wax flowers, pittosporum and asparagus fronds all work well to fill out flower arrangements.
Not sure what flowers to choose? Here are some combinations you may want to try:
White lilies, accented with pink rose spray and a pittosporum filler.

Bold multi-colored gerberas, accented with yellow daisies and a lavender filler.

Colorful tulips, accented with paperwhites and a fern filler.
4. Pick the Perfect Vase and Start Arranging
Once you've chosen your focal, accent and filler flowers, it's time to choose something to arrange them in. Vases are a great option, but don't be afraid to get a little creative! Almost any sort of vessel can be used to display a bouquet, from mason jars and urns to watering cans and pitchers. The most important part of these Mother's Day flower arrangement ideas is finding the elements your mom will love, including the perfect vase or vessel.
To arrange the flowers, begin by placing the filler around the edge of your vase. This will help the focal and accent flowers stay in place and stand tall. Then place the focal flowers, followed by the accents. If you're using a short or wide vase for your arrangement, here's a pro tip: Use thin strips of cellophane tape to create a grid-shaped pattern over the opening. Your flowers will stand up, rather than draping over the sides.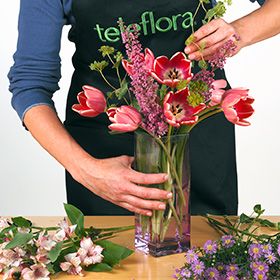 5. Write a Meaningful Note
Finally, no floral gift is complete without a small card. Find a car and handwrite your mom a meaningful and personal message. She'll absolutely love the handmade bouquet, but the handwritten note will provide a lovely final touch she won't forget.
These Mother's Day flower arrangement ideas are just the tip of the iceberg. This May, take the time to show your love and appreciation to the special lady in your life and you can't go wrong. She will surely appreciate the thoughtfulness and effort.