Every party needs that extra pizzazz in the form of a table centerpiece. If you're having loved ones over to celebrate Easter, decorate your table with fun and beautiful do-it-yourself creations. Grab your favorite festive items and craft supplies and try these DIY Easter centerpieces for the table:
Pretty in Peeps
You've probably already spotted hoards of Peeps at your grocery store, so grab a few boxes and turn them into edible centerpieces. They'll decorate your table before your meal and delight the kids at dessert. Tiered trays are the perfect vehicle for a DIY Peep display. Ring your marshmallows around the dish, and place a small bowl of additional candies in the center.
You can even use two cube vases and fill the part between the vases with the peeps and have the smaller cube filled with pretty daisies or tulips for a pop of color and seasonal flair. This makes the perfect DIY Easter centerpiece. If you don't want to arrange your own bouquet, order a Teleflora cube, like Make Her Day bouquet, and then put that in a larger cube vase to add the candy. Want a DIY activity your kids will enjoy helping with? Grab graham crackers and frosting and construct little houses. Fill each home with a Peep and other candy.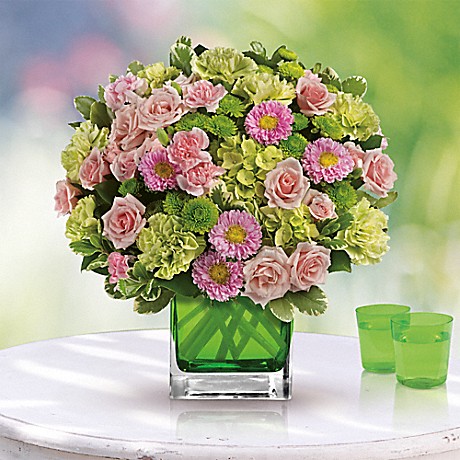 Egg-Stravaganza
​Save your eggs from your family's hunt, or buy some new ones, to make an egg-themed centerpiece for your table. Start by picking a color scheme so you can paint your eggs to match. For instance, you can stick to the classic pastel shades for that fresh, springtime feel. Or, paint your eggs an unusual color, like gold or silver.
With your colors in order, you'll need a way to display your eggs. For a centerpiece you can disassemble after the holidays, fill a glass bowl or container with your eggs, adding accouterment like silk leaves and flowers. Something more on the nose would be a nest. Fill a bowl with twigs, silk leaves and straw and place your eggs on top.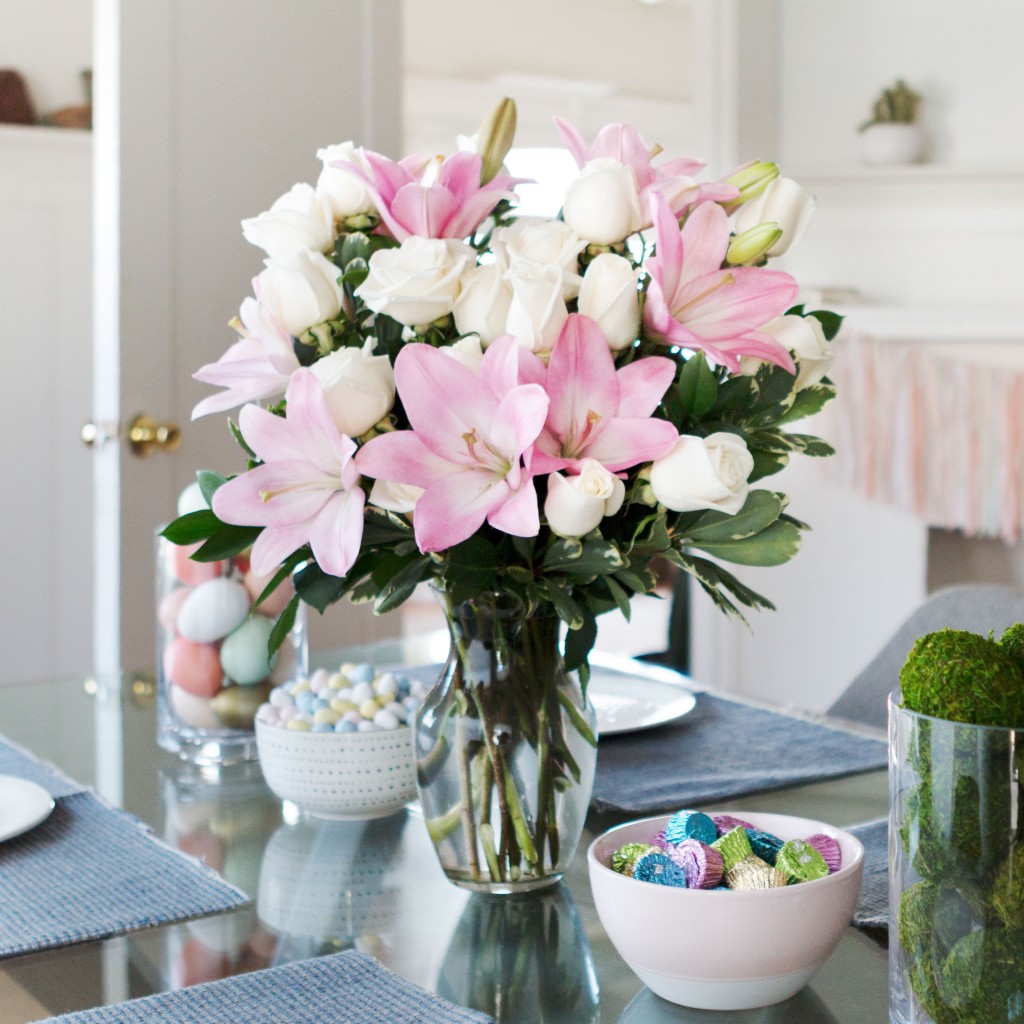 Bloomin' Beauty
You can't go wrong with a floral centerpiece for Easter. It's perfect for spring and a classic delight. Look for arrangements that feature flowers synonymous with the holiday, like bright tulips and white Easter lilies. Teleflora's Easter flowers collection is full of bouquets that will bring joy to your kitchen table, now and after the holiday. However, if you're looking for a centerpiece, pick an arrangement that won't block your view of your guests. For instance, the Daisy Daydreams arrangement features pink and purple blooms all nestled in a low basket. After your flowers wither, you can save the basket to use at Easter next year. For something that draws attention to the reason behind your Easter dinner, check out Teleflora's Crystal Cross Bouquet. With colorful roses, mums, and carnations paired with a beautiful crystal cross, this arrangement is another one that won't disrupt your view while honoring the holiday.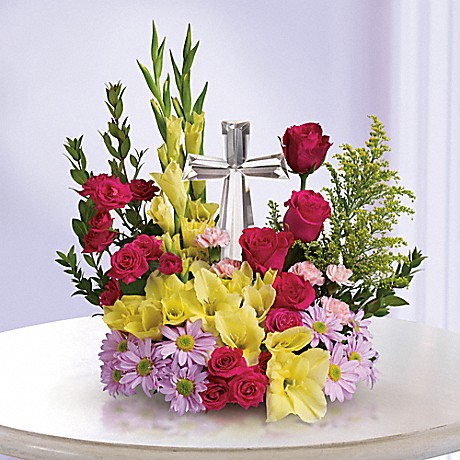 Fancy Flames
Brighten up your table with a candle centerpiece. You can choose tall or wide candles – either way, surround them with DIY additions. For instance, cover a rectangular dish with moss and small flowers and stick your candles on that. Top it off with rabbit figurines, eggs or even more Peeps. Combine water and fire by filling a bowl with liquid and placing floating candles on top. You can even dye the water to get a pastel look.