Pantone named the cosmic and imaginative Ultra Violet as the official color of 2018. Here's inspiration for bringing this blue-based, enigmatic purple into your home:
Ultra Cozy
Combine bold texture and color with your coziest accessories. We're talking ultra violet shag carpets, statement pillows, faux fur blankets and even a purple couch for a gorgeous and dramatic pop of color. Switch up the feel of your bedroom with a new duvet cover, featuring a lovely violet pattern of course. Don't forget the pets! Your pup will love an upgrade to a comfortable and totally glamorous doggy bed.
Violet Accents
If the boldness of this hue makes you a little nervous, you can add little touches rather than major statements. Go for a fun detail, such as a jewelry stand, serving platter or reading glasses. Grab a set of purple drinking glasses or amethyst coasters. Bring this hue to the guest bathroom with purple soaps and hand towels. When it's time for some R&R, burn a lavender vanilla candle and indulge in a new pair of lavish purple slippers. If you decide you're entirely in love with ultra violet, consider painting an accent wall with this exciting color.
Purple Plants
Take your greenery to ultra violet levels. Start with a few sprigs of lavender or lilac in a glass jar, or treat yourself to an exquisite purple bouquet. Most flowering succulents also have a gorgeous purple hue, which will complement the other accents. Give your traditional plants a purple upgrade, with a new pot or vase. You can even DIY a container, using purple paint or ribbon.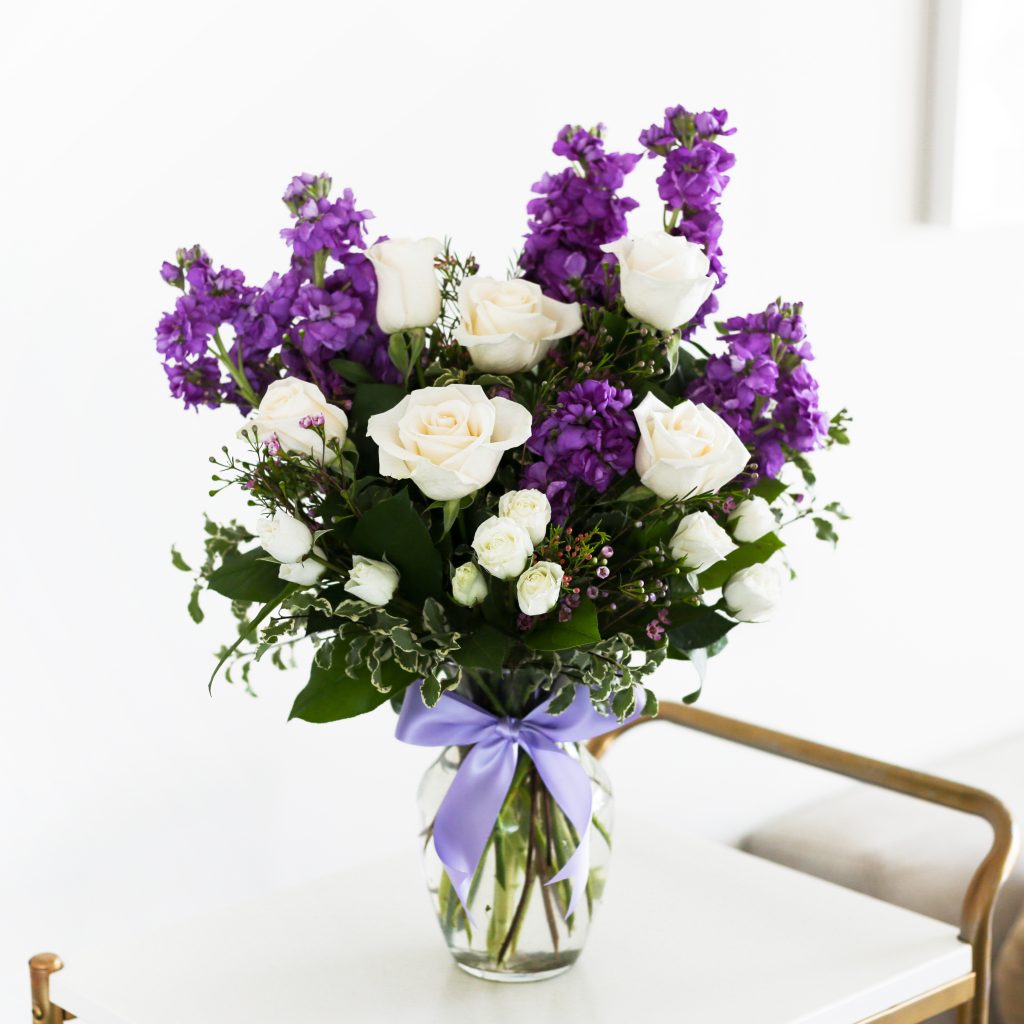 Iconic Posters
According to Pantone, part of the inspiration for choosing this purple hue was the innovative artists we typically associate with the color. Rest in peace, Prince, David Bowie and Jimi Hendrix. Hang up old records, vintage posters or modern graphics featuring these pop culture icons, and by all means jam to their hits while you're at it.
More Wall Art
Not a fan of Prince or David Bowie? No worries. You can decorate your walls with the art of your choice. Go for a modern geometric piece, or choose a cosmic-inspired print. Even better, try your own hand at painting. Grab a bottle of wine, a few canvases and various shades of purple paint. Go for a modern look if you're not quite confident in your abilities, or use the color as an inspirational jumping off point for your next project if you're good with a paint brush.
New Closet Additions
Who says decorating has to stay inside the house? You can get glammed up with purple clothing and accessories as well. Pantone describes violet as a non-conformist color, representing those who are ready to take on the world with creativity and innovation. So don't be afraid to elevate your look with purple tassel earrings, booties, bomber jackets and purses. Say yes to that stunning dress, and by all means rock a pair of purple pants. Go for patent, velvet and glitter when you're out for the night, and cozy up with a purple sweater or robe when you're in for the evening.
Final Note
Don't forget that purple is actually a relatively neutral color, so you can layer several purple hues without forfeiting a chic, sophisticated look. They'll also complement many of the colors you already have in your home or closet, so you can add as much or as little ultra violet as you wish. Most importantly, have fun expressing your style with this marvelous shade of purple.