Cousins have a special bond unlike any other relationship. In many families, your cousins are your first friends. You play in your grandparent's backyard together, sit at the kid's table at family gatherings together, and eventually grow to be friends outside of holiday get-togethers. July 24th marks National Cousins Day, a day to celebrate these relationships and here are a few ways to commemorate this year that'll be fun for everyone involved:
Throw a Kid Cousins Party
If your children have cousins that they enjoy playing with, invite them all over for a little Cousins Day celebration. Order a pizza and set up an ice cream bar for them to enjoy for dessert. Luckily, Cousins Day falls on a Sunday this year, so you can acknowledge it the night before and let your kids have a sleepover, or have everyone come over on Sunday for a daytime playdate. Your children may not have the opportunity to spend a lot of time with their cousins outside of family get-togethers. This option is a lot of fun for the kids because their time together isn't an afterthought to a holiday – the celebration is just for them!
Throw an Adult Cousins Party
If you'd like to acknowledge Cousins Day with your own cousins, it can be tougher to corral a group of adults. With work schedules and babysitters, it's important to try to plan an event like this a couple of weeks in advance, so there's no shame in deciding to celebrate on a different day that works for everyone. What matters is that you're celebrating! Try getting reservations at a restaurant that's a reasonable distance from each of your homes. You can make it as big or as small as you'd like. It can be just the cousins or spouses and children can join as well! If you have cousins who live a significant distance away, give them a call or use Skype or FaceTime to catch up. Nobody has to be left out this Cousins Day despite distance!
Personalize National Cousins Day
Sometimes, life takes us in different directions. You may live in another state or even country from your cousins. This doesn't mean that Cousins Day has to go uncelebrated. Instead, send a card or a even some flowers to show your favorite cousins how much you care. Teleflora has bouquets for every personality and can even get you same-day delivery if you want to send a last minute surprise. Whether you want to brighten their home or brighten their desk, you will find the right bouquet. We recommend going with something a little more fun for the holiday like a bright yellow roses summer bouquet that will give both of you a nice trip down memory lane.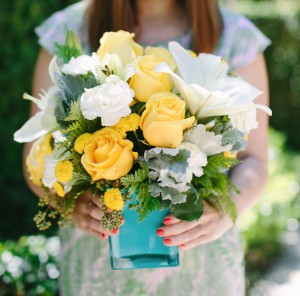 While it might not be a popular holiday, National Cousins Day is a great excuse to get the family together and enjoy each other's company. Start a new tradition this year!