If you're looking to decorate your home or office with some greenery but don't want to worry about the maintenance, succulents are the perfect option! These arid plants don't require much water, which means if you forget to feed them, they'll survive. This makes them perfect for anyone with a busy lifestyle. Just make sure to place them somewhere where they can get around six hours of sunlight a day. However, succulents like to get about six hours of sunlight per day, so place them near a window or in a room that gets sun for a few hours.
Half of the fun of owning succulents is arranging them in creative and beautiful ways, adding texture and color to any room in the house. They are a great way to express your individuality without having to take too much time out of your day decorating. Here are a few ideas to get you started:
Differ the heights
Succulents come in a variety of shapes, sizes and colors, but the most popular plants are short and wide. With that said, when you are creating an arrangement, try mixing up the heights and sizes of your plants rather than sticking with the same. This adds complexity to your collection, making it more visually appealing for both yourself and any onlookers.
Get your succulent collection started with the Teleflora's Peaceful Zen Garden, which mixes different succulents with bamboo stalks and rocks. It's the perfect example of a multi-dimensional garden a great starting point if you're new to arrangements.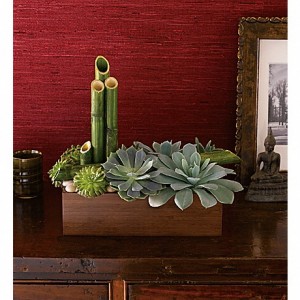 Build a terrarium
Terrariums are glass cases filled with plants, and they're the perfect environment for succulents. Like succulents themselves, terrariums come in all shapes and sizes. You can easily make one that fits on your desk at the office or in your bedroom at home  Arrange multiple plants then add dirt, rocks and other decorations to make your own mini-world.
You can choose from a variety of options to house your terrarium like a diamond-shaped box, hanging glass globe, and a large mason jar, to name just a few. Then choose your plants and play with their placement before committing. Finish by adding the soil, gravel, rocks, plants, and any other enhancements you want like branches or figurines and then display your new creation. Just make sure to not put this in direct sunlight because the glass traps heat, which could scorch your plants.
Choose unlikely containers
Just about anything can be repurposed into a pot for your succulents, from a wooden toolbox to a fishbowl to a ceramic Teleflora Ford pickup truck. No matter what creative container you choose, just make sure to fill it with gravel and soil high enough that the succulents are within view – they should not be sunken into the container because they can't collect enough sunlight this way.
Consider filling several of the same objects with plants and arranging them together in your home or office. For instance, don't just fill one mason jar – fill three! Then, set them together to make an interesting display. You can apply level rules here, too, by choosing containers of different heights.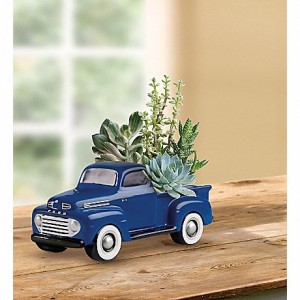 Go vertical
Hanging your succulent containers fill your space with greenery without taking up too much square footage. You can use a traditional hanging planter or seek something a little different, such as dangling glass terrariums. Even stacking pots make for a lovely display.
For something truly stunning, make a vertical planter with a shadow box. Simply fill the box with gravel, soil, mesh covering and succulents, (in that order) and hang the frame on the wall. For this project, fill the frame completely so you don't see any dirt.
Whether you want to build your own succulent arrangement or order one that's already assembled, these beautiful and low-maintenance plants will bring life to any home or office.