Gorgeous floral arrangements can do wonders to a room, giving it an ethereal vibe. But why limit the enjoyment to just you and the people who live in your house? We can help you get picture-picture flower arrangements, whether you are having them delivered or making them yourself, so that every Instagram post is a surefire double-tap.
Here are some tips to making your arrangements as aesthetically pleasing as possible and a few tricks on how to get swoon-worthy photos of them:
Think of your color palette and texture
Unless you're using a floral pattern that necessitates stems of the same length, vary the length to add some texture. Before you start cutting, get an idea of how you want to arrange your flowers and play with different heights by either laying them out on the table or collecting them in your hand. Then you can start cutting the stems on an angle and filling in your bouquet. Consider choosing a few focal point flowers to stand above the rest of the arrangement. These are considered "hero blooms," and should be arranged in odd numbers.
When shopping for flowers, it's important to choose the right color combinations in order to create an arrangement that really pops. There are a few ways to do this and the color wheel from Color Matters can be a lot of help. The types of color combinations include: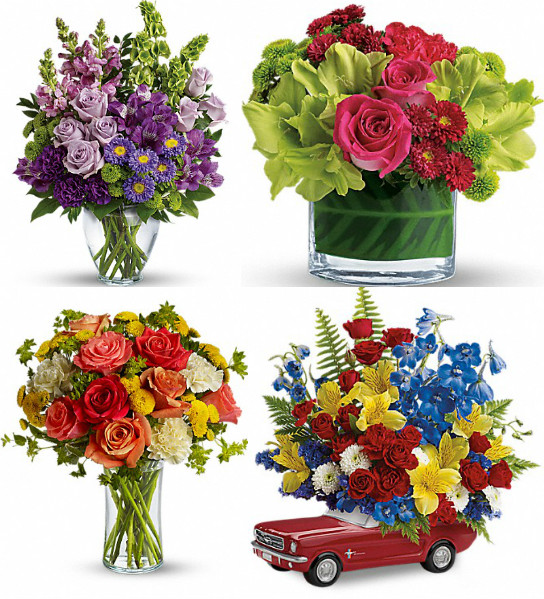 Many people are hesitant to add greenery to their arrangements. However, it's a great option to fill in gaps, give the arrangement some depth, and even add its own beauty to the display. Try adding some nontraditional greenery, like rosemary or even eucalyptus leaves. Once you begin adding green to your arrangements and embracing the stems, you'll wonder why you were ever turned off by the idea.
Unique Flower Vases
While a classic vase is always a good way to go, that's not your only option when it comes to housing your floral arrangement. If it is small, try using a vintage tea set as your vase, with a large bouquet in the teapot and smaller, individual flowers trimmed to fit in the tea cups. Here are some other kitschy and quirky ideas for arranging your flowers in a nontraditional way:
Old metal buckets, watering cans or paint cans are great for an outdoor floral arrangement on your porch or in your backyard.
Mason or jam jars give off a carefree, country vibe. This is perfect if you want your home to have some Southern charm!
An old milkshake glass will have a retro feel that'll look great as a centerpiece on your dining room table.
Camera Tricks for Instagram
Snapping a photo of your flowers doesn't come without it's challenges. We've all seen a cringe-worthy grainy or over-filtered photo pop up on our Insta feeds. You know you don't want to garner that type of reaction from your followers. Luckily, there are plenty of simple camera tricks that'll allow you to get the best possible photos of your flowers. Here's what to remember:
Don't use the flash from your phone. If possible, set your arrangement near a window so you can illuminate the photo with natural light. Learn My Shot states that the best times of day for natural light are the morning, before noon and and in the early evening.
Don't panic if you can't fit the entire bouquet or arrangement into the picture. In fact, taking a photo of a portion of the arrangement can actually turn out even better, giving it more of an artistic feel than a promotional one.
Unless you're trying to show off the vase as well, take your photo from a slight upward angle so the focus is on the flowers. Not too high up, though! You still want to show the base of the vase.
Arranging flowers is always a lot of fun, but it's even more exciting when your social media circle can see the fruits of your labor.