Poinsettias are a beautiful sign that the holiday season is finally here. However, poinsettias have a long history that starts much earlier than its use for holiday decor. These now popular Christmas flowers are native to Mexico and were used as early as the 1300s. The Aztecs, who referred to the plant as "Cuetlaxochitl," utilized the plant during the 14th through 16th centuries to control fevers and produce a vibrant red dye. Its origin as a holiday flower even comes from an old Mexican legend.
These flowers gained popularity in America in the early 1900s when Paul Ecke Sr. developed poinsettia plants that could be grown indoors, and this December birth flower has come to symbolize good cheer, success and celebration. Because of Poinsettia's growing popularity in the 20th century and cultural significance as a bridge between the U.S. and Mexico, Congress created National Poinsettia Day in 2002. National Poinsettia Day on December 12th is meant to recognize the poinsettia and the contributions of Paul Ecke Sr., the founder of America's poinsettia industry.
Here are ways you can celebrate the poinsettia this December 12th and throughout the holiday season:
Visit Your Local Greenhouse or Florist
Many are unaware that poinsettias come in more colors than the classic red we've all come to know. There are actually over 100 varieties of the plant, with colors like white, pink, yellow, purple and more, so looking through all of your beautiful poinsettia options is sure to inspire good cheer and positivity. You can even adorn your home over the holidays with these Christmas favorites to keep the festivity going throughout the season. For example, Teleflora's Red Poinsettia Bouquet and Teleflora's White Poinsettia Bouquet are elegant classics that can certainly brighten your home with holiday joy this Christmas.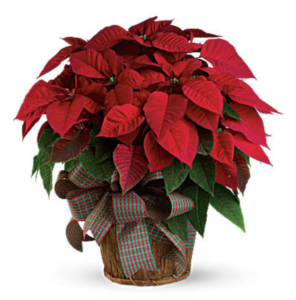 Make Holiday Poinsettia Punch
This festive plant has even inspired new drinks to create, so you can celebrate by making the perfect poinsettia punch. Great for family gatherings or office parties, there's never been a more delicious way to honor this Christmas classic.
The ingredients you'll need for this holiday drink include:
¾ bottle cranberry juice

1-liter club soda

1 bottle of orange-flavored vodka

1 bottle of champagne

½ cup of fresh cranberries
After you've made your punch, don't forget to toast to National Poinsettia Day!
Give the Gift of Holiday Cheer
If your family or loved ones are too far away to celebrate with you, then giving poinsettias as a gift can be just as meaningful. Sharing the spirit and symbolism that this flower encompasses might be the perfect way to spread holiday cheer this season. Decorative baskets like Teleflora's Fruit and Poinsettia Basket or Teleflora's Holiday Homecoming Basket are festive ways to show someone you care.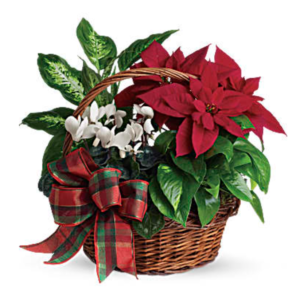 However you celebrate the poinsettia this Christmas season, it's important to understand where the plant comes from and why it's so popular today. National Poinsettia Day represents a deep cultural history for a beautiful flower that warrants recognition and reverence.