From Mother's Day and Father's Day to Sweetest Day and Valentine's Day, there are so many occasions throughout the year dedicated to reaching out to people you love. However, that doesn't mean that you have to wait for those times to let someone know you care. Just Because Day is August 27, and it's the perfect opportunity to brighten your loved ones' days, just because you want to! Here are a few ways that you can make Just Because Day memorable this year.
Send a Friend Some Flowers
Whether you've lost touch with a friend you used to be close to, or enjoy happy hour with your bestie every week, there's no doubt that your friend would be pleasantly surprised if a bouquet arrived at his or her home or office on Just Because Day. Keep it simple with an arrangement that he or she can keep in the office, or let your friend know how much you admire him or her with an elegant, lush white lilies bouquet. Chances are, he or she isn't even aware of Just Because Day, which will end up making a flower delivery even more exciting!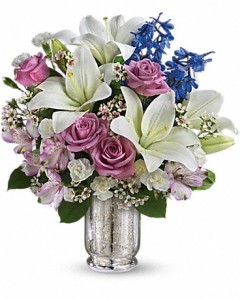 Contact your Family
Many of us don't get to chat with our parents or siblings as much as we'd like due to our busy schedules. This is especially true if everyone lives in different time zones! Whether you have an ongoing family group text or you can't remember the last time you updated your parents on how your life is going, take some time out of Just Because Day and give your parents or siblings a phone call. Or even better, if you live nearby, drop by and visit! In a perfect world, family time wouldn't have to be scheduled, but there's no harm in using Just Because Day to reiterate to your family how much you love and appreciate them.
Surprise your Partner for Lunch
If you know what time your partner goes on break at work, consider taking a special trip to his or her workplace to enjoy lunch together! If your lunch hours don't coincide, however, you can make a simple gesture of getting up early to pack him or her with a meal made with love to take to work. You can even write a sappy little love note and stick it in the bag. No need to be embarrassed about being cheesy, it's Just Because Day, after all! Don't hesitate to surprise him or her with a stunning hydrangea and rose bouquet like Garden Romance!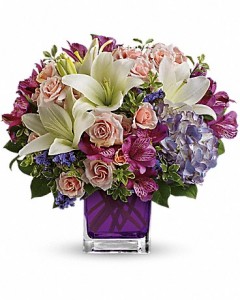 Celebrate with your Child
If your child is under the age of 10, chances are, you hear the question, "Why?" on a daily basis. Well, Just Because Day is the perfect opportunity to respond, "Just because!" If your child always asks you to stop at his or her favorite fast food restaurant despite the fact that you just made an awesome dinner, consider treating him or her to some chicken nuggets for Just Because Day. Other ways to celebrate this holiday are to take your children to the movies to see the latest cartoon they've been wanting to see, or having a family game night.
A surprise every now and then is the perfect way to make the people in your life smile and feel special. The best presents are the ones that aren't prompted for any reason at all.