Now that school is officially back in full swing, there's no doubt that teachers around the world are giving 100 percent in their classrooms each and every day. Whether your best friend or significant other works in a school or you simply appreciate the person who's educating your child, why not show the teacher in your life how much he or she means to you? There are plenty of small ways to brighten your favorite educator's day:
Send Your Teacher Flowers
Any teacher would love a pleasant surprise like flowers delivered to the classroom. Fall flowers would give some autumnal cheer to the class but some back to school flowers in cheery, bright colors would also be a big hit. The only thing better than a fun floral bouquet, would be a fun floral bouquet with another use. This is where bouquets with mugs come in! The smiling Be Happy Bouquet is always a great choice, and so is the Lovely Hearts Bouquet. When the teacher has cleared all of the flowers out of the bouquet, he or she can fill the mug with coffee on those mornings where the kids just seem to have too much energy!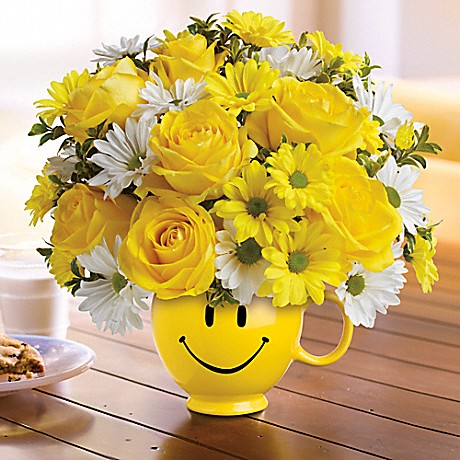 Something Crafty for Your Teacher
If you or your child enjoy arts and crafts, the beginning of the school year is a great time to put those skills to work! There are plenty of projects simple enough for a child to make for his or her teacher, and the more complicated ones are manageable with some of your help. Here are a few ideas to spark your creativity:
•Crayon Pencil Holder: Any educator would appreciate a container to hold all of his or her writing utensils. You can easily make a creative DIY pencil holder made out of crayons!
•Ruler Wreath: Wreaths aren't just for the holidays! A ruler wreath, personalized with the teacher's name and decorated with ribbons or flowers, will make all the other teachers jealous.
•Notepads or Note Cards: Teachers have a lot of notes to write to parents, so there's no doubt that they appreciate notepads or post-its. The simplest of gift are the best.
These are just a few back to school gifts for your new teacher. No matter what you do, knowing they are appreciated and doing well at their job is the best gift a teacher is ever going to get!