Social workers help their clients live richer, happier lives, so if you or your child speak with a therapist, it's no surprise you may want to thank him or her for all he/she has done. March is the perfect time to show gratitude, as it's National Professional Social Work Month. Giving a gift is a great way to do just that. However, therapists have to be careful not to cross any boundaries that may affect the patient-provider relationship. Before you say thanks with a card or present, ask your therapist if he/she accepts those things. If the answer is yes, then select a gift that doesn't interfere with his/her professional code of ethics. In general, that means presenting something inexpensive and simple that doesn't interfere with your treatment. Here are a few appropriate gifts for your therapist that you can give during National Professional Social Work Month:
Baked Goods
Some therapists keep treats in the office to share with clients, especially kids. Replenish your social worker's stock by baking desserts he/she can share or keep to himself/herself. Before you start baking, though, ask your therapist about food allergies. Baking is also a great way for your kids to say thanks. They'll have fun making cookies or brownies with you and feel proud for being able to give a gift to someone else.
Flowers
Flowers are a beautiful springtime gift that can cheer up your therapist's office. Just be careful when selecting the blooms in your arrangement – every flower and color carries meaning, and you want to honor the boundaries set by your patient-provider relationship. Choose flowers that represent gratitude and happiness. For instance, pink roses show appreciation, and yellow tulips express joy.
Teleflora's Shimmer of Thanks Bouquet is the perfect option for your therapist. This cheerful arrangement features a variety of flowers (including carnations and roses) and shades of yellow that together display happiness. Lemon leaf and eucalyptus complete the look, which is encased in a yellow cube and paired with the word "thanks." The bouquet's clear meaning tells your therapist exactly what you want it to: that you appreciate his or her help. You could also go with the Be Happy Bouquet which invokes the same feelings.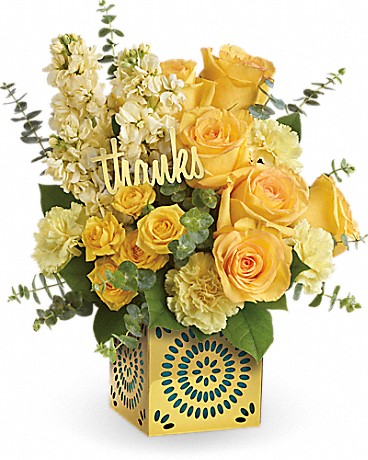 A Mug
Does your therapist drink coffee or tea during your sessions? Consider a fun mug as a gift. It could be one that references his or her job or one that matches the decor in his or her office. For instance, you could choose a mug that displays the phrase "And how does that make you feel?" This gift is affordable and lighthearted, ideal for care providers.
A Card
Cards are ideal gifts for a number of occasions, including  therapy. Either make yours by hand (kids should definitely craft theirs) or purchase one with an appropriate message. It should express gratitude. You can write in a personalized note referencing the specific reasons your therapist has made a difference.
Giving a gift to a therapist is similar to giving a present to a teacher. Think small, inexpensive and enjoyable. Be very clear in your messaging to avoid crossing any lines, and, most of all, make sure the social worker in your life feels appreciated.