As Independence Day approaches, you are likely planning a party. If a traditional 4th of July barbecue isn't your thing, there are still plenty of ways to celebrate. Here are a few alternatives to the typical red, white and blue shindig that we think could be equally, if not more fun:
Film Fest
Cinephiles, here's the chance to turn your home into the Deli from When Harry Met Sally. Serve guests popcorn or movie-themed food, like dates from Indiana Jones, lobsters from Annie Hall, or ratatouille from, well Ratatouille. Then, instead of battling crowds to go to see the fireworks when it gets dark, set up a projector with an old favorite movie and curl up in the back yard. Every movie is better under the starry night sky and it'll be a 4th of July you never forget.
Happy Birthday America!
Since Independence Day is the anniversary of the country, what better way to celebrate than with a birthday party? Sing Happy Birthday while serving cake and ice cream, play party games like having guests try to name all 50 states in 5 minutes, or have a contest to see who has visited the most American landmarks. To add a few final touches to the event, set up patriotic flowers such as Teleflora's '65 Ford Mustang Bouquet. This bouquet is a combination of red carnations, white chrysanthemums, blue delphiniums and yellow alstroemeria in a ceramic mustang collectible keepsake. After all, nothing says Happy Birthday America like a quintessential American automobile.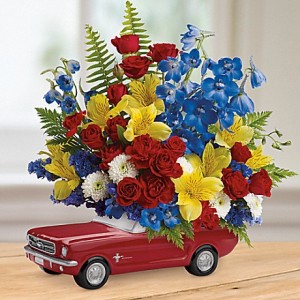 WWII USO Show
Celebrate this great nation by transforming your home into the Hollywood Canteen. Don your nylons and your best '40s dress, pin up your curls, and touch up the red lipstick because it's time to put on a show! You can collect donations from your guests for a worthy cause while screening '40s films like Casablanca and The Best Years of Our Lives in the background. Start the night with a classy dinner to make the evening a whole affair. You can play the Andrews Sisters and Glenn Miller during dinner and practice your swing dancing as the fireworks go off. It's a recipe for a perfect evening.
Thanksgiving in July
Break out the cranberries: here is a way to celebrate Thanksgiving with the people you actually like! Kick off the holidays six months early, and try out your recipes at this Fourth of July party instead. Decorate the table with an arrangement like Teleflora's Fall Blush Bouquet; a combination of orange bi-color roses, lilies, yellow alstroemeria, and orange carnations will set the scene for this pretend fall meal. Eat food, give thanks and watch fireworks, what could be better than that?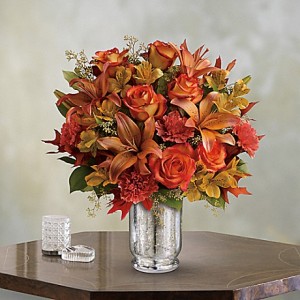 Historical Milestones
If you want to do something completely different this year, use July 4th to revel in other historical moments in history. July 4th is also the day that Lewis Carroll first told the story of Alice in Wonderland, Robert E. Lee withdrew from Gettysburg during the American Civil War, and Providence, Rhode Island was founded, to name just a few historical moments. Revel in all history this year and play games like bingo or host a costume contest. You are still honoring America but taking a road down America's memory lane.
Alternahistory
What if Kennedy wasn't shot, or Nixon had won in his place? What if William Henry Harrison had worn a coat at his inauguration? Dare to imagine with Alternahistory, and have friends come up with strange versions of parallel American universes. This will challenge not only your history knowledge, but also get your creative juices flowing in a healthy, competitive way. In the end, the best alternate reality wins and you can come up with a prize of choice.
4th of July weekend is rich in history, but that doesn't mean you have to do the same exact thing every year if you don't want to. Try out a few of these alternatives and let us know what you think!