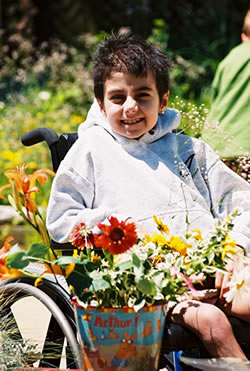 Liz Scott, ALSF-Guest Blogger
The photo above is one of my favorites of my daughter Alexandra "Alex". It was taken while we were on vacation at the beach and so beautifully captures her spirit. Alex had just finished picking these flowers from the garden of our friend's house and was so relaxed and happy. About two weeks after this photo was taken, on August 1, 2004, Alex passed away from neuroblastoma – she was only 8-years-old.
Alex was diagnosed with cancer just before her first birthday and bravely fought the disease for more than seven years, nearly her entire life. The day after her fourth birthday, Alex went into the hospital for a month long stay for intense chemotherapy, and upon feeling better informed me that when she got out of the hospital that she wanted to hold a lemonade stand and give the money to doctors to allow them to "help other kids, like they helped me." In true Alex fashion she kept her word and with the help of her older brother, held her first lemonade stand in our front yard raising an amazing $2,000.
Alex continued to hold her yearly lemonade stands to benefit childhood cancer research and word quickly spread of her mission. Before we knew it, people from all over the country and world, moved by Alex's story, began holding their own lemonade stands and donating the proceeds to Alex and her cause. And so, Alex's Lemonade Stand Foundation was born.
Before Alex died, she raised more than $1 million to help find a cure for the disease that took her life and inspired a nationwide movement. Thanks to the help of thousands of supporters, we're thrilled to report that ALSF has raised more than $55 million toward my daughter's dream of eradicating childhood cancer.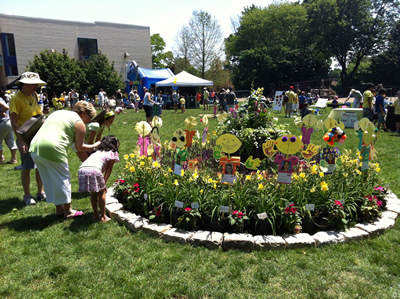 Although lemonade, lemons and the color yellow are most commonly associated with our Foundation, flowers certainly play a role in many of our events to symbolize their inherent quality of happiness, growth and life.
Each year at Alex's "Original" Lemonade Stand, an event we hold to continue the annual tradition of Alex's summer lemonade stand, we feature a Garden of Wishes. In addition to the beautiful flowers and plants that create a centerpiece of sorts on the field, we include typed out messages from children who are battling cancer of their wishes for the future. The wishes range from being prophetic in nature (e.g., hope for a cure) to simple "in the moment" requests (e.g. watermelon for a snack)! The floral display honors Alex and all of our childhood cancer heroes that we've lost to cancer, but also all of the children who continue to fight the disease every day.
For all of these reasons, it is especially fitting and meaningful to have Teleflora as a supporter of our cause. The arrangements in the Sunny Day Pitcher Collection perfectly capture the sunny, beautiful spirit of Alex and all of our childhood cancer heroes. We are thrilled to have Teleflora as members of "Team Alex" and are grateful for both their contributions to the fight against childhood cancer. We will find a cure…one cup at a time!
Liz Scott, Alex's Mom