There's something super cozy about the comfortable, spicy scents associated with fall.  Especially when cinnamon, nutmeg, and ginger are combined. These just so happen to be the key ingredients to the delicious pumpkin spice blends found in lattes, pies, bath oils, soaps and more, that are ever so popular this time of year. Actually, just about anything you can imagine is now imbued with pumpkin spice scents or flavoring. It's probably best not to go overboard bringing it into your home, but that doesn't mean you can't enjoy it a little bit. Here are some great ways to enjoy the seasonal delight of pumpkin spice in your home without driving your friends and family crazy:
Make Your Own Blend
Anyone can walk into a coffee shop and order a pumpkin spice latte, but you can also make a pumpkin simple syrup to enjoy at home. Then, you're not limited to coffee creations only: You can drizzle the fragrant mixture over pancakes, waffles, Greek yogurt and even some roasted butternut squash. Simply heat up sugar and water in a pan, stirring carefully until the crystals are dissolved. Be sure to watch the liquid and prevent it from boiling. Once all the sugar has been mixed in, add a pumpkin spice mix or your own ginger, cinnamon and nutmeg to taste. Let the syrup cool, and store in a glass bottle in the fridge to use as needed.
Create an Arrangement
If you love the color orange, decorate your home with pumpkins and, of course, pumpkin spice candles. Look for mini pumpkins to add to side tables and frame the base of a pillar candle, scented with a warm, seasonal blend. If you enjoy flowers at this time of year, position a bouquet containing bold reds, sunny yellows and leaf-like orange blooms in the center of little orange pumpkins and gourds. This can make an excellent Thanksgiving table centerpiece, particularly if you add a couple of pumpkin spice-scented candles to make the room fragrant.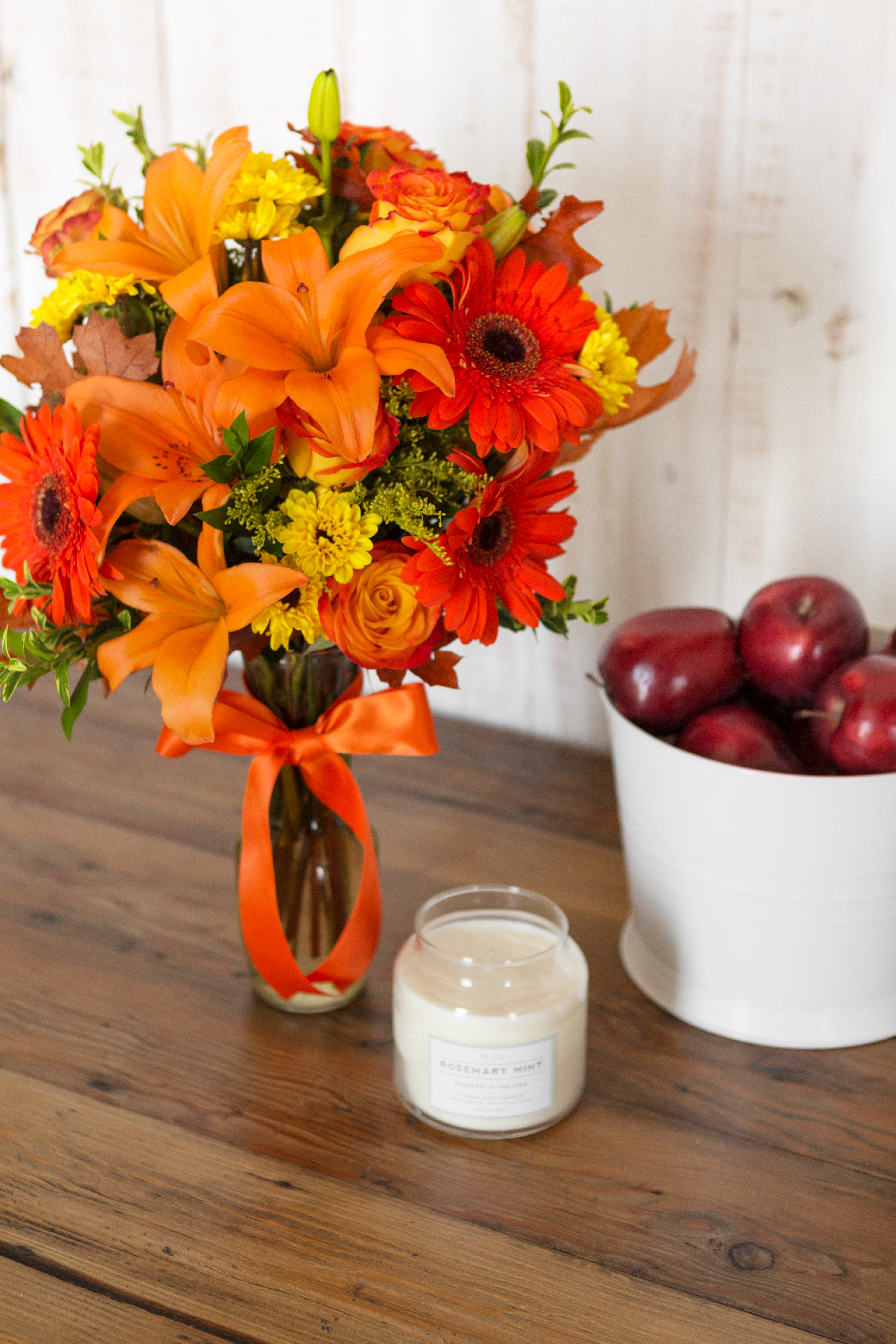 Bake Pumpkin Bread, Pumpkin Pie or Muffins
There's nothing that can match the smell of something baking in the oven. And if you choose to make pumpkin-flavored bread or muffins, your nutmeg, ginger and cinnamon combination will come in handy. Head to the store and pick up a pre-mixed blend, or flavor the treats to your preferences. The baking scents will add that little bit of extra warmth to your home and can provide an opportunity to have a few friends or loved ones over. Host a potluck brunch and offer to make pumpkin spice lattes, or just invite friends to come and enjoy tea, coffee and your seasonally appropriate desserts.
Before you know it, we will be enjoying peppermints and evergreens and all the associated flavors of December holidays, so for now, have fun with your pumpkin spice flavorings. After all, you only get to enjoy it for a few weeks every year!