Valentine's Day is just around the corner, and it's time to put away the holly branches and Santa hats and replace them with hearts and Cupids. Here are some tips to get you started on how to decorate your home for Valentine's Day, the day of love.
Cupid Approved Valentine's Day Bouquets
Valentine's Day may be one of the most popular flower-gifting holidays, but don't let this hold you back from picking up some arrangements before the big day. Decorate the surfaces in your home with bouquets of fresh roses, freesias, daisies, tulips and carnations all across the color spectrum.
Burning Love
You might have a selection of candles spread around your home throughout the year. When Valentine's Day is on the horizon, you might want to invest in fresh, romantic fragrances. You'll be tickled pink by classic rose scents, entranced by passionate jasmine and citrus aromas and comforted by soothing lavender and sandalwood.
DIY Floral Wreaths
Nothing looks quite as whimsical and festive on a door, mantle or empty wall than a colorful floral wreath. To bring extra Valentine's Day flair to this decoration, use shades of pink, purple and red, the major colors of this holiday. Try using carnations and roses by themselves, or adorn the wreath with greenery for added texture. You can forgo genuine blooms for artificial flowers for wreaths that will last you many Valentine's Days to come.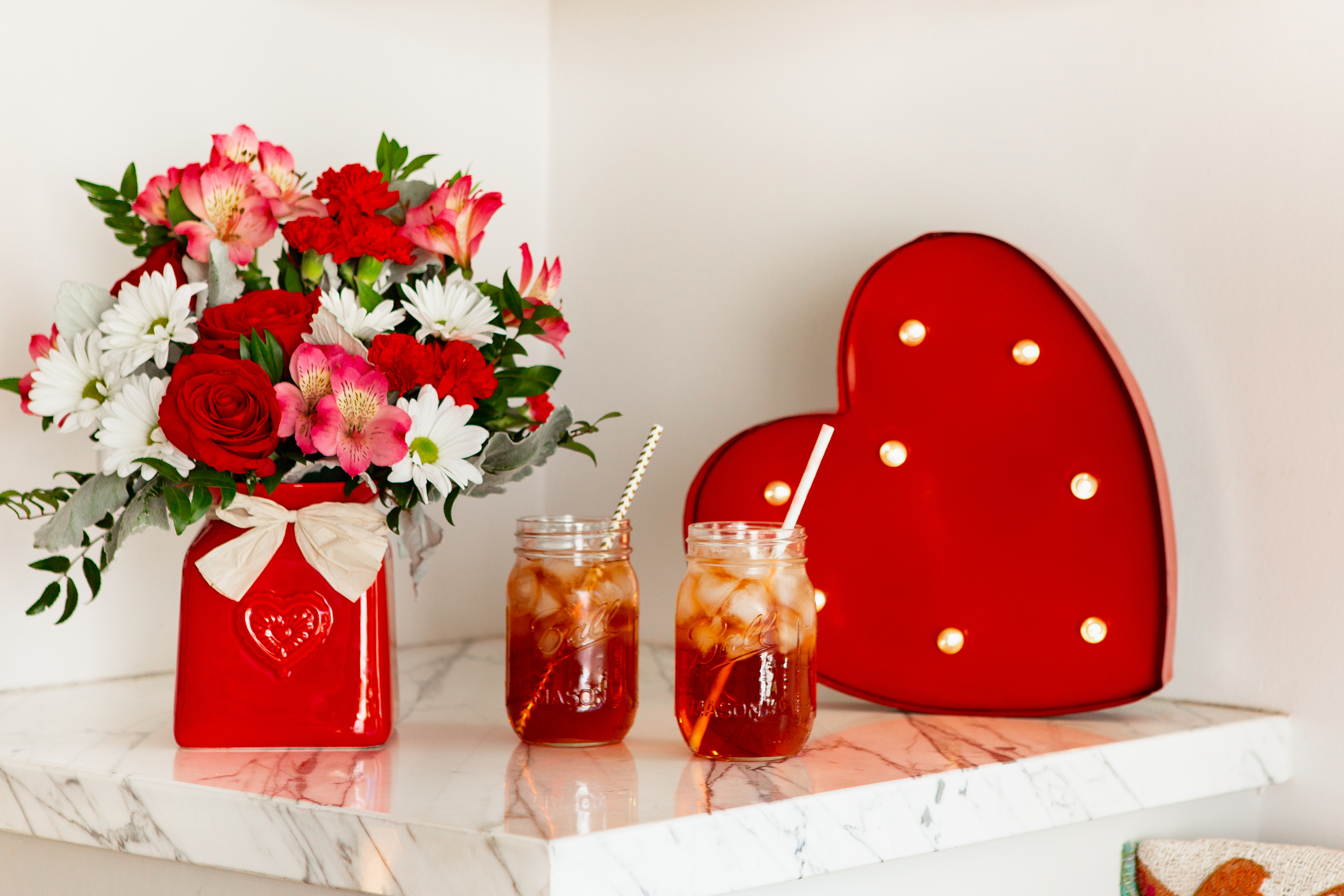 Volumes of Love
For a cute, free coffee table decoration, peruse your bookshelves for works about romance. Create a few neat piles of hardcover and paperback copies of your favorites. Some of the popular love stories you might have filling your shelves include classics like Pride and Prejudice, Wuthering Heights, Jane Eyre, Anna Karenina or a collection of Shakespeare's sonnets, or contemporary works such as Outlander and The Notebook.
Throws of Passion
Nothing freshens up your living room quite like changing out your throw blankets and swapping out your accent pillows for some that match the season. Decorate your couches with pillows that are red and pink, heart-shaped and embellished with the word "love." Mix up your decor with throw blankets in deep shades of red, romantic hues of pink and playful patterns with roses and hearts.
Love on Tabletop
Bring some Valentine's Day flair to your dining room table by adorning it with a beautiful table runner. You might want to use a versatile, solid shade of red or pink, or might purchase a heart-covered fabric reserved for this holiday. In addition, you can add some playfulness to the top of the table by strategically scattering candy hearts around the centerpiece.
These are just a few of our favorite ways to decorate the home for Valentine's Day. It may be a short holiday, but it's certainly a sweet one.