The holidays are a perfect time to adorn your home with beautiful flowers and exquisite arrangements. They are a classic way to bring a sense of wonder and warmth to your home, and Teleflora's Christmas flowers may be the perfect festive accent. 
However, after the holidays are over you may be wondering what to do with the lovely flower vases. They're just too pretty to throw away, but you don't want to keep empty vases lying around. We get it. The good news is there are countless reasons to repurpose your vase, so we've compiled a list of our five favorite ways to reuse your Teleflora Christmas vase after the holidays.
Turn It Into a Candle Holder
One of the simplest ways to repurpose your Christmas vase is to make a DIY candle holder, so you can transform your home with ambiance and mood lighting. This works whether your vase is smaller like Teleflora's Merry and Bright arrangement or much larger like Teleflora's Festive Pines Bouquet. Perfect for any shape or size, all you have to do is find the candle that fits. You can even add coffee beans or colored glass fragments around the candle to give it an extra bit of flair. 
Make It a Candy Bowl 
If you've got a sweet tooth that just won't quit, then turn your vase into the perfect candy bowl. This is not only great for when you need a snack, but guests are sure to enjoy a sweet treat when they come over.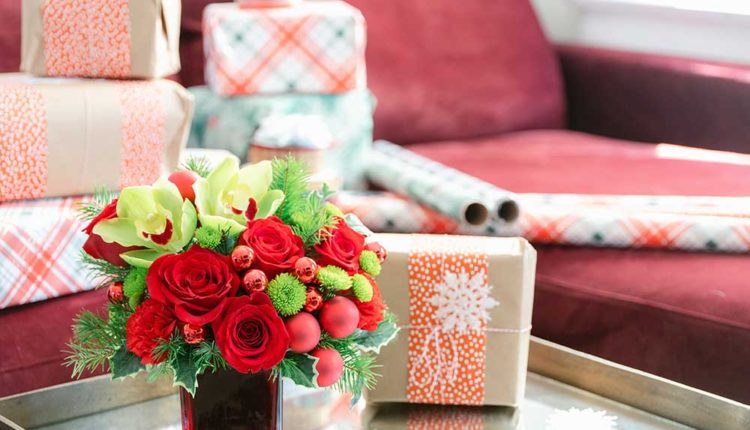 Use It for Display
Simply elegant vases like Teleflora's Snowy Night Bouquet are great options to put almost anything on display in your home. You can exhibit your collection of wine corks and fruit in the kitchen, or you can use it in more intimate spaces to hold bathroom essentials or supplies for work. Feel free to get creative however you want because, with a repurposed vase, anything goes. 
Fill Them with Potpourri 
If the fragrance of radiant flowers is no longer filling your home, then re-using your Christmas vase for potpourri is a great way to keep your home smelling fresh throughout the year. Use a small vase or even a bigger one like Teleflora's Silver and Snowflakes Bouquet to fill your home with a gentle natural scent long after the holidays have ended. 
Donate Them
If repurposing your Christmas vase isn't your goal, then you can donate them. It's a simple way to give back to your community while ensuring your beautiful vases don't go to waste. 
With so many different ways to repurpose your vase, you can continue to enjoy it long after the flowers!