Mother's Day is a great way for families to celebrate the special women in their life, but it's also a holiday that reminds mothers to value each other – because only a mom can understand some of the things other mothers are going through. So, in honor of Mother's Day, here are five ways you can celebrate, support and be an overall good companion to your mommy friends:
1. Send a Bouquet
Everybody loves receiving bouquets, but studies have actually proven that getting flowers from a friend or loved one can improve people's moods, both immediately and in the long term. That's why sending the gift of an arrangement or plant is such a great gesture from mom to mom. So, if one of your friends is having a tough week or you simply want to put a smile on her face, send over a bouquet. We love the simplicity of Teleflora's Tulip Treasure arrangement, and the Spring Has Sprung Mixed Basket is both lovely and cheerful.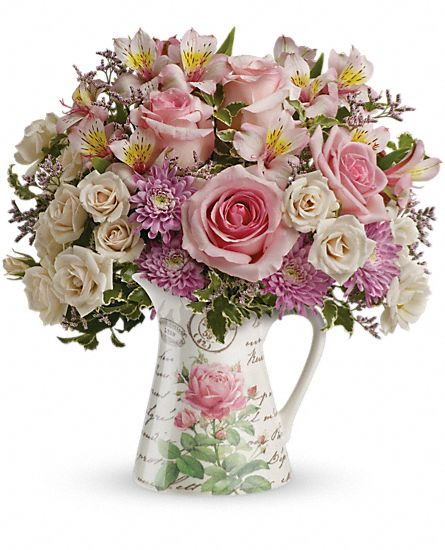 Fill My Heart Bouquet
2. Offer Your Services
Whether single or married, working or stay-at-home, moms can always use a little extra help. So, offer your services to your fellow mothers for whenever they need a bit of assistance. This can entail anything from carpooling to school to volunteering to babysit so she can get other things done or relax for a bit. You can even offer to help her run errands or assist with chores around the house if she's having a particularly busy week. It's a great way to be supportive, and even small gestures can make a huge difference.
3. Lend an Ear (Or a Shoulder)
Everyone needs to vent their emotions or frustrations every once in a while. So, support your mommy friends by lending an ear they can vent to or a shoulder they can cry on – whatever they need most. Be there to offer advice and encouragement, but most of all simply be there as a sounding board. If you know one of your friends is going through something difficult, even a quick text message with words of encouragement can help improve her mindset.
4. Have a Night Out
Find the time for you and some of your friends to let loose a little every once in a while. Set up an evening when you can all eat dinner, grab drinks, see a show or just hang out together. A night with friends is a great way to relax, de-stress and let go of some of your worries for a few hours.
5. Host a Mother's Day Celebration
This year, celebrate Mother's Day with your friends and their families. Host a garden barbecue or a potluck dinner, and invite moms, dads, kids, grandparents and whoever else wants to join so that you can all celebrate together. Since Mother's Day is a holiday for the moms, gather all of your mom friends together and honor everyone.
And for all of the mothers in your life who live out of state, don't forget to help them celebrate Mother's Day by sending a bouquet of flowers or a lovely card!