Your normal day at the office is filled with plenty of time-consuming tasks – all of which would be nearly impossible without the help of your office secretary. Your administrators are the office gurus that are multi-talented and go above and beyond for both you and the company. Admin Professionals' Week begins on April 25th. It's time for all you business professionals out there to thank your real-life Pam Beasley/Halpert in your office.
According to a 2013 study by Staples, the administrative assistant is the most-trusted employee, ahead of both the boss and human resource specialist. Additionally, two-thirds of employees believe the admin assistant is the biggest asset to the office. In 2014, the Staples conducted a similar survey and found that, for two consecutive years, majority of employees believe their admin boosts office morale and is a better team player than the boss.
Celebrate all week by giving a little gift each day. Here five ideas to get you through Admin Professionals' Week:
1. MONDAY: Bouquet of flowers
Kick the week off with one of Teleflora's special Administrative Professionals' Week arrangements or something to put on the windowsill like Teleflora's Make Their Daisies Bouquet or Teleflora's Peaceful Zen Garden. You can never go wrong with gifting flowers. Be sure to include a cute note that says something like, "From sending forms and fixing files, to sorting through those paper piles, we thank you. From completing tasks with time to spare, and always knowing what goes where, we thank you. Happy Administrative Professionals' Day to our favorite teammate, working with you is extremely great!"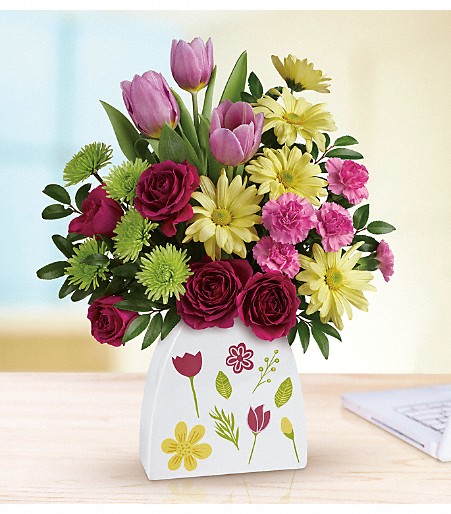 2. TUESDAY: LifeSaver
Fill a reusable water bottle up with LifeSavers (wrapped, of course) and attach a note saying, "You're a LifeSaver! Thanks for all your help." This is a great gift because your executive assistant will keep the water bottle on his or her desk and actually use it at work!
3. WEDNESDAY: Lucky charm
The administrative assistant is your lucky charm. After all, they do everything they can to help you get through the day. Fill a mason jar up with Lucky Charms and attach a note that says, "Thanks for being my Lucky Charm!"
4. THURSDAY: Pocket full of sunshine
There's nothing like a pocket full of sunshine to help brighten someone's day. Fill a bag full of yellow bite-size candies like Nerds, Now and Laters, Lemon Heads and Laffy Taffys. Attach a note that says, "Here's a pocket full of sunshine to brighten your day."
5. FRIDAY: Tasty pastries
An array of sweet treats is a great way to end a long week, especially if it's a box of delicious donuts. On Friday morning, present your office secretary with an array of donuts, and attach a note that reads, "I donut know what I would do without you!"