While we were certainly eager to spring forward this past weekend, we still have to look out over barren trees, brown grass and, in some places, snow. Just because we have more daylight doesn't mean it feels like spring just yet. However, decorating with floral bouquets can help you get in the swing of things. Fortunately, certain spring flowers bloom early, offering beauty and warmth sooner rather than later. Here are four types of spring flowers that are ready to be enjoyed right now:
1. Primrose
Another colorful flower, primrose opens its petals in early spring. Though common in pink, red, white, yellow and orange, this flower also grows purple, blue and multicolor. As such, primrose is the perfect addition to any bouquet. The plant can withstand tough conditions but prefers sunlight. For those planting primrose, this flower is a perennial that gains ground each year. While the primrose itself is tough, its symbolism is anything but that. In fact, it's traditionally associated with kindness and nurturing.
Enjoy primrose in your home this spring with the Simply Chic Mixed Plant Basket from Teleflora. This arrangement features, of course, primrose, along with miniature African violets, pink cyclamen, pink kalanchoe, green ivy, maidenhair fern and pink hypoestes, all delivered in a basket.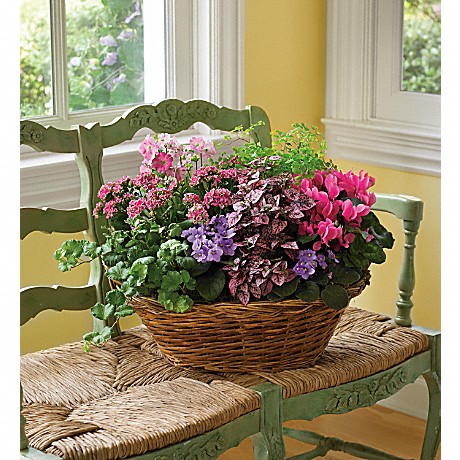 2. Pansy
If you're looking for color, pansies are the perfect flower. These hearty plants handle cold well, so they often appear in bouquets soon after snow melts. Though they're annuals, they can be planted in fall, survive winter and then bloom at the first signs of warmth. Otherwise, gardeners can plant them in spring and enjoy them before summer arrives. Pansies are available in numerous colors, such as white, purple, blue and yellow, as well as multi-colored looks.
Not only are these flowers beautiful and quick to bloom, but they also carry a heartwarming meaning. Representing loyalty, pansies are a popular gift for wedding anniversaries or recommitment of love.
3. Hyacinth
March 7 was World Hyacinth Day, proving that this flower is a springtime staple. Its iconic clusters of blooms and bell-shaped petals come in yellow, red, pink, white, orange, lavender and blue. In fact, the blue variety is synonymous with sincerity, and the plant in general represents constancy. Keep your hyacinth flowers in partial shade.
To experience a variety of quintessentially spring flowers, including hyacinth, consider the Spring Favorites arrangement from Teleflora. With tulips, roses, irises, mums, asters, moss and hyacinth, this arrangement can inspire gardens to come.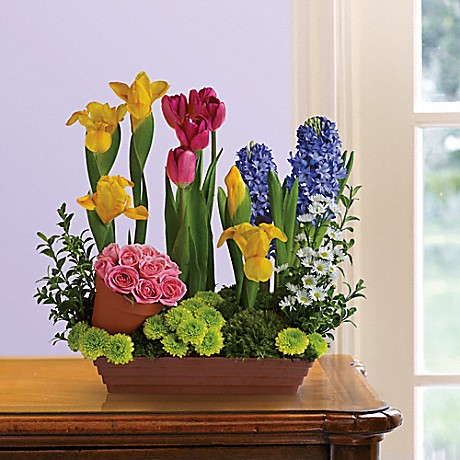 4. Daffodil
Daffodil's trumpet shape makes it a joy to behold. Its uniquely uplifting appearance and equally sunny colors (including white, yellow and orange) are iconic during this time of year. In general, these perennials bloom between March and May, just in time to chase away the remnants of winter. Daffodils carry with them several meanings, including eternal life and rebirth, and are a popular 10th anniversary gift. However, be careful when sharing this flower – some folktales claim one daffodil is bad luck while multiple are a blessing.
You don't have to worry about bad luck with Teleflora's Daffodil Dreams bouquet, though. Housed in a versatile glass vase, the arrangement includes yellow and orange flowers.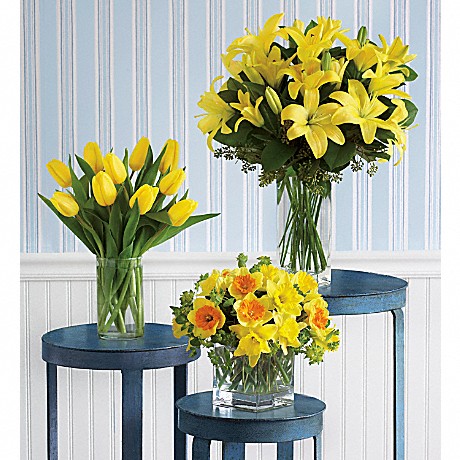 There are so many ways to prep your home for spring. Adding fresh flowers for pops of color is only one option, even though it might be our personal favorite. Let us know how you decorate your home below!