April is in full swing and the flowers are blooming everywhere you look. While it might not feel 100% like spring yet, we are certainly getting close. In celebration, we wanted to share with you the most popular flowers this spring. These are must have flowers to include in your home for Easter and the rest of the season. They will add the perfect pops of color and scent to your home or office. Without further ado, here are the 4 most popular April spring flowers to buy this year:
Sweet Peas
Sweet Peas top the list as the April birth month flower. These darling blooms look delicate but pack a fragrant punch. In fact, their name is inspired by their sweet aroma. Available in shades of pink, lavender and even violet, sweet peas are associated with bliss, pleasure and delicacy. They make for a lovely addition to spring bouquets, adding movement and color.
Tulips
It's difficult to think of flowers that are more quintessential examples of spring than tulips. These beautiful blooms are available starting in March and come in a veritable rainbow of colors. Their iconic look features goblet-shaped petals and thick stems. As with other flowers, tulips carry different messages with each color. Yellow tulips mean cheerfulness or joy, red tulips mean perfect love, purple tulips mean royalty, and white tulips mean forgiveness. Choose your tulip bouquet based on the message you want to convey.
For a bright design that conveys love, passion and royalty, check out Passionate Purple Tulips bouquet from Teleflora. With brilliant purple blooms in a simple glass vase, this arrangement stars spring's most popular flower. Looking for a more lighthearted option? Teleflora's Sunny Yellow Tulips bouquet is the warm-color companion to the first arrangement. Its saturated color will bring light and joy to your space.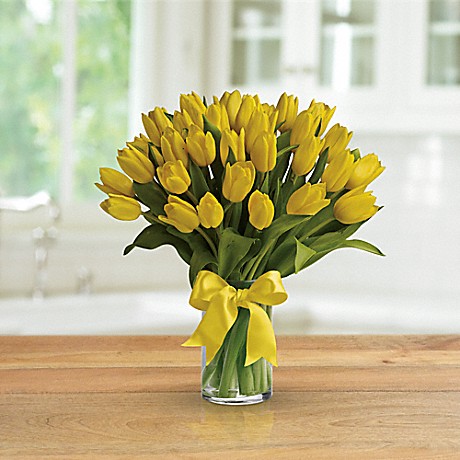 Gerberas (Gerbera Daisies)
If you're looking for stunning hues from your spring flowers, take a look at gerberas. With layers of small petals arranged around a center pistil, these merry blooms are available in red, orange, white, pink and yellow, as well as some pastel shades. As a whole, these flowers signify happiness, purity and innocence.
The Fashionista Blooms bouquet from Teleflora offers pink gerberas alongside yellow and pink roses, yellow carnations and green hydrangea for a colorful ensemble that invites warm weather. The flowers are arranged in a concave glass vase and finished with ribbon to top off this arrangement beautifully.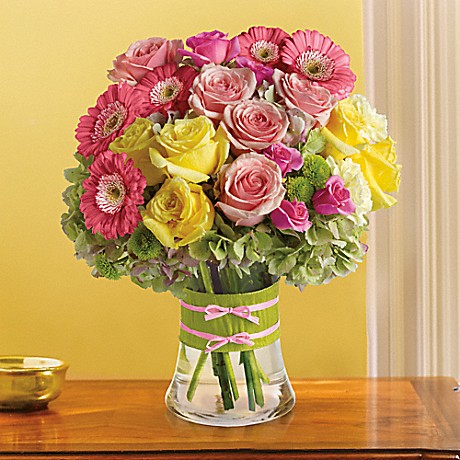 Carnations 
Carnations are all-occasion flowers that add texture and color to bouquets. What's more, these flowers come in both bright and subtle hues, making them a perfect match for just about any arrangement or space. Each shade represents a specific type of love: White carnations are a symbol for pure love and good luck. Pink carnations are a symbol of a mother's love. Red carnations are a symbol of profound love and connection.
Bring these impactful flowers into your home (or the home of a loved one) with the How Sweet It Is bouquet from Teleflora. This saturated arrangement includes hot pink, orange and red flowers all situated in a classic glass vase.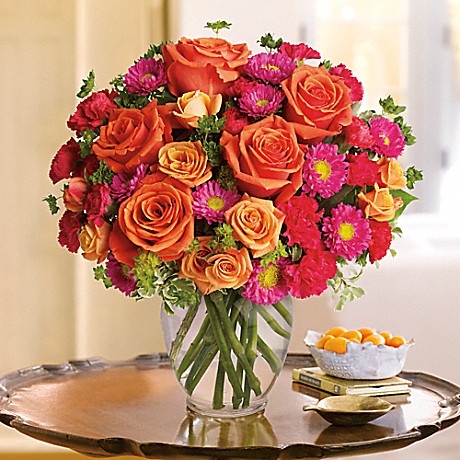 No matter which flower is your favorite, you can celebrate spring with fresh flower arrangements for your home. You can also send flowers to a loved one and bring the joy of the season into their life! There is nothing quite liking getting a flower delivery, just as a hello.