Memorial Day is the unofficial start of summer and one of the most popular weekends of the year for BBQs and parties. While Americans are remembering those who have served and are currently serving the country, they also take the opportunity to catch up and spend quality time with loved ones. It is an American tradition to celebrate in this manner.
Instead of sticking with old habits, try spicing up your Memorial Day Weekend plans with a few of these unique patriotic ideas. They are sure to get you and your guests excited to do something new this year. Maybe in the end you'll even create a few new traditions.
1. Dine Across the Country for Memorial Day
You have a party to host, so we're not advocating actually touring the U.S. Rather, show your patriotism by planning a menu inspired by foods that are popular in different states and regions. For instance, cook some classic barbecue from Louisiana, the Carolinas, Memphis, and Kansas City and see which one you and your guests like best. Or show the Midwest some love by grilling Chicago-style hot dogs. The options are truly unlimited on what you can cook so be adventurous. If you have friends from all over, have them bring their hometown favorites and take the pressure of picking the menu off of yourself.
From appetizers to entrees to Memorial Day desserts, you can serve food from different parts of the country all day long. Crafting an eclectic spread will surely delight your guests and give your party a delicious new twist.
2. Elegant Memorial Day Decorations
Patriotic tablecloths, cups, and plates are certainly part of the day's theme, but your annual Memorial Day bash can be both fun and classy, without going over the top. Instead of just decorating with cheap party supplies, invest in some pieces that take you from Memorial Day all the way through Labor Day and will serve every party in between. Metal and wood lanterns add the perfect amount of summer style to your party and are useful all season long.
Finalize off your tables with beautiful floral arrangements, either handmade or purchased, displayed as stunning centerpieces. While they might not last a lifetime, you can still enjoy them for the week following your party to keep the celebrations going. Teleflora has a variety of patriotic bouquets sure to elevate your party decor. One being the With Distinction flower arrangement, which is bold and eye-catching, featuring roses, carnations, snapdragons, chrysanthemums, hydrangeas, and delphiniums. But that's only one of the many options available for purchase. They have something to fit everyone's party personality this year.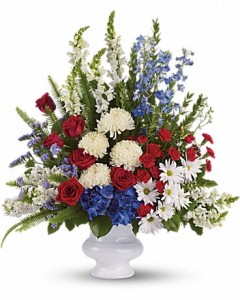 3. Craft Signature Memorial Day Cocktails
Most adults enjoy a nice, cold beer, especially on Memorial Day weekend. You can of course still serve the crowd-pleaser, but why not try something different this year and whip up a few mixed drinks? Make a variety of cocktails inspired by regions all across the United States for some patriotic appreciation! You can easily find recipes online and then label what the drink is and where it originates from so your guests can learn a little something while they're drinking.
At the very least, create red, white, and blue drinks to keep the theme going all day long. Don't forget to make alcohol-free mixed drinks for the kids – they'll enjoy a bright blue or red beverage, too!
4. Give Back on Memorial Day
The whole reason America celebrates Memorial Day is to thank the men and women of the Armed Forces. While eating good food and spending time with loved ones is fun, it doesn't exactly benefit the troops. This year, give your party a purpose by holding a raffle. You can purchase several Memorial Day flower arrangements to act as centerpieces during the party, then raffle them off as souvenirs when the fun is over. Guests who want a chance to take home the gorgeous displays can pay for raffle tickets.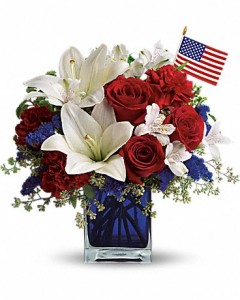 At the end of the night, draw a few winners! Encourage your guests to buy multiple tickets so they have better odds of winning and you have more money to donate. Any cash you make off the raffle can be donated to an organization that helps Veterans.
Memorial Day is all about traditions, but trying something new can never hurt. Let us know which ones you like the best!